Micahel Hurst dons the Fool costume for King Lear, three decades after first tackling the role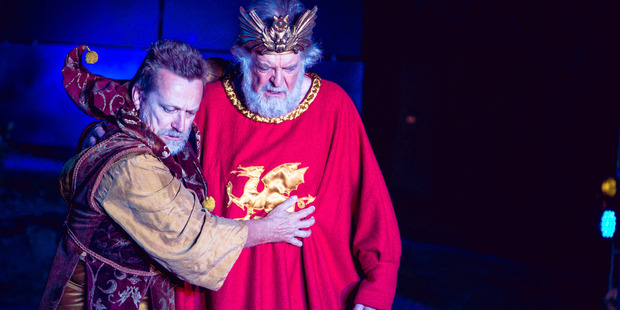 Mention Shakespeare in New Zealand and one local name inevitably springs to mind: Michael Hurst.
Hurst began popping up in productions of plays such as Hamlet and Othello in the late 1970s, and has steadily, even steadfastly, expanded on his relationship with the Bard, both as an actor and director. Better known to the public as Iolaus in Hercules: The Legendary Journeys and Xena: Warrior Princess, Hurst never ventures far from Shakespeare, even occasionally revisiting a role he's tackled before, such as the Fool in King Lear.
"I was 25 when I played the Fool at Theatre Corporate," he recalls. "Now I'm 55. I'll play him 30 years older, though not necessarily wiser. Truth be known, this time he's more working class, less pretentious, more grounded, hairier and less cosmic."
Hurst is referring to the revamped Summer Shakespeare production of King Lear, which stars executive producer Sam Neill's scholarly brother Michael Neill in the title role, with Kiwi actress Lisa Harrow making her debut as director.
It's an ambitious project, involving a number of people at the top of their game (Oscar-winning The Lord of the Rings costume designer Ngila Dickson was initially on board), with Hurst seeming to take it all in his stride.
"I love the Summer Shakespeare experience; the community and pageant-like quality of it," he enthuses. "It's unique. I also feel strongly that putting one's energy back into a project like this is good for the spirit; both mine and yours."
Michael Neill is a much-published authority on Shakespearean drama, though he hasn't trod the boards since the 70s. A younger actor might find the man's enormous knowledge of the play intimidating, but Hurst is having none of that. He's also having none of the suggestion he could have a little fun wrong-footing Neill on stage.
"Michael Neil is a brilliant scholar," he says. "I've just finished his book Issues of Death - Morality and Identity in English Renaissance Tragedy, and I loved it. I'm not intimidated at all. He's become a friend and colleague, and what he gives to me in terms of intellectual understanding I'm able to return to him in terms of stagecraft. We're having a great time.
"As to playing tricks, that's something I consider to be beneath any serious actor," he continues.
"I frown upon it and don't in any way condone it. If anyone tried to play a trick on me onstage I would be - and have been - furious."
It's a serious business, Shakespeare; even the comedies. There is a slew of other characters Hurst would love to play - Iago, Shylock, Mark Anthony, Macbeth (again), Prospero, Titus Andronicus - but he struggles to pinpoint when he should play the complex title character of his latest play.
"When I was last the Fool, Raymond Hawthorne, who played Lear, was, I think, about 46 or 47," he recalls. "Younger than I am now. He was really, really good. People tell me I'm too young to play it, and I get that, though surely actors are allowed to "age up".
However, an older Lear (60, 70?) is probably better, though as the adage goes, when you're old enough to actually play the role you don't have the energy, and when you still have the energy you're too young! Having said that, Michael Neill achieves both. I'll be ready when I'm ready."

King Lear plays at the University of Auckland until March 30. Tickets from $19 from maidment.auckland.ac.nz