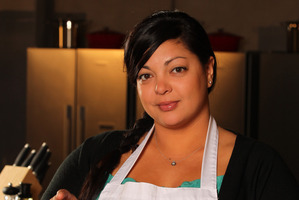 It wasn't Raheel Kerr's dream to win the MasterChef New Zealand crown.
After two weeks of eliminations, she made it clear by shrugging her shoulders when judge Simon Gault asked if she still wanted to be in the cooking competition.
"You're telling me out of all the people that we've turned away, you don't want to be here?" he asked.
"I think there are more deserving people," Raheel replied.
The remaining 14 contestants sat disgruntled as Raheel fought for her position in a three-skill elimination challenge - de-boning and cooking a piece of salmon, French trimming a lamb rack and making the perfect pesto.
"I'm not here to compete against them," Raheel said, getting fired up at the fact that she only had a couple of people backing her.
"I feel like s**t," she said.
The 27-year-old vegetarian from Hamilton said she was "horrified" when a mystery box revealed a row of whole Peking ducks hanging by their necks from meat hooks.
"I wanted to throw up," she said.
She prepared a twice-cooked duck breast with ginger, five spice, peas, rice and chilli.
Gault said: "I always want to find something good in a dish. And the good in this dish for me is that it's kind of like yesterday's fried rice that somebody's made and it wasn't that good and you've heated it up."
The judges criticised her for not rendering the fat down enough, Ray McVinnie described the flavour as "muddy ducky," and Raheel was sent to battle it out against Kris and David.
"I feel like I should have tried harder in the elimination challenge," she said.
"It put me in a bad light, I felt like I was up against really tough competitors."
But by the end, Raheel was over it. Living in the MasterChef house was "doing her head in" and some people in there were "grinding my gears" - though she wouldn't admit who.
"I was really happy to have even made it this far. It wasn't my dream to be a MasterChef really."
* MasterChef New Zealand screens on TV One on Sunday nights. www.nzherald.co.nz will interview every contestant as they are eliminated.
*Read our blog of episode four here.