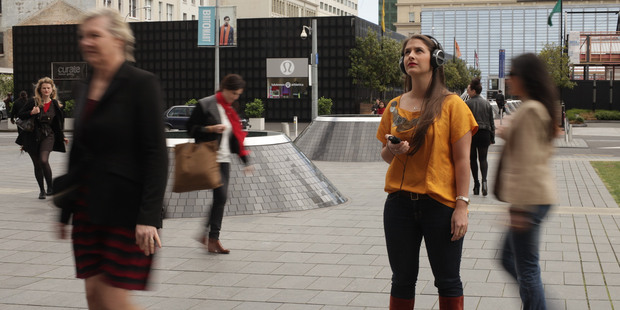 Walking tours - especially those guided by a remote, apparently all-seeing, all-knowing central HQ - are full of tantalising possibilities: where will I be going? How will I know how to get there?
Taking advantage of the format, many of en route's contact methods are whimsical, delightful, treasure-hunt surprises. And their behind-the-scenes organisation is remarkable - location permissions alone would be a migraine.
The soundtrack uses local actors and music, but as a joint UK/Australian production (between Richard Jordan Productions and "one step at a time like this"), the show doesn't talk about Auckland itself or its history.
Instead, the recorded voices sound like life coaches or relaxation experts, and have much to say ponderously about personal journeys and perception: "I identify with the ground beneath my feet ... Am I the only spectator to my being here?" etc.
The best moments are when the city's architecture stands in for something else - most appropriately a spiral staircase becomes Dante's terraces of purgatory, thanks to a great selection of local art - and also when the city itself becomes the experience.
I hadn't before noticed John Radford's wonderful, large Lane Change sculpture in Durham Lane.
Due to the relentless commands - a necessary feature of the format - as well as the esoteric tones and solemn self-consciousness, en route is perhaps not for those feeling cynical or rebellious. But if you want to let go, relax, and take some time out - just as any tourist on an organised tour is pleased to relinquish responsibility for a little while - then it's a great escape. Pockets are useful. $39, including refreshments.
What: En route
Where: Auckland CBD, until March 24