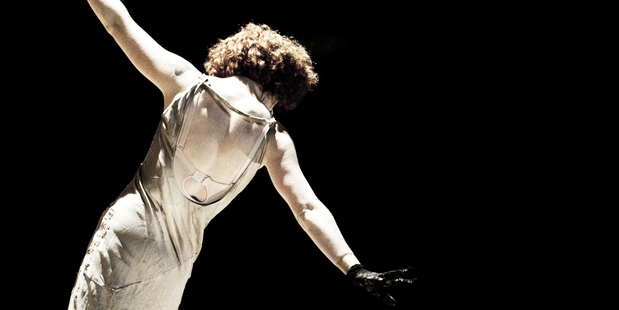 Cantina opens with a velvety voiced crooner promising to "shoot the moon right out of the sky" and honours that with an exhilarating acrobatics display set in the seductive ambience of a 1920s speak-easy.
The show has hit on a winning mix of circus-style athleticism blended with elegantly choreographed dance.
It's a potent concoction made even more appealing by the infectious rhythms of swing-era jazz performed live with the multi-talented acrobats doubling up as musicians.
The generous bill of fare whets the appetite with a startling display of tight-rope walking before serving a smorgasbord of wildly energetic tumbling, flips and handstands.
Side dishes include a cheeky piece of clowning, a roller-skating routine, a wonderfully vigorous Charleston and some lively musical items.
The main courses provide an amusing and at times disturbing commentary on sexual politics. A wickedly dangerous duet presents an excruciatingly precise impression of what happens when a woman in stilettos walks all over her man and a number of dance routines had male and female protagonists engaged in intense physical combat.
The spectacle reaches a climax with a truly remarkable piece of rope climbing that creates a thrilling sense of jeopardy as a performer spins into a blur while hanging precariously from a leather strap looped around the back of his neck.
It is not difficult to see why this Australian troupe has made such an impression at festivals in Edinburgh, the Netherlands and London.
The panache of highly trained acrobats is always thrilling and in the intimate setting of the Festival Club tent there is the added frisson of imagining the performers might spin out of control and land on your lap.
What: Cantina
Where: Aotea Square, Festival Club until 24 March