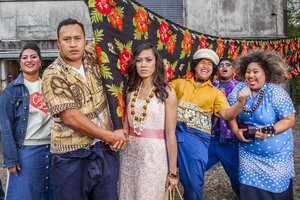 An old bed factory in Ponsonby has proven to be the inspiration behind New Zealand's first Pacific musical.
The Factory kicks off today at the Q Theatre as part of this year's Auckland Arts Festival.
Set in 1970s New Zealand, it follows the story of Losa, a young Samoan woman who arrives in a new country with big dreams.
All those dreams are shattered, however, when she is forced to work at a textile factory in South Auckland alongside fellow Pacific Islanders struggling to make ends meet.
The musical was written by Vela Manusaute - founder of South Auckland's well-known entertainment group Kila Kokonut Krew - who directed it alongside wife and actress Anapela Polataivao.
Manusaute said the musical was a tribute to Pacific people who left the islands in search of a better future for their children in New Zealand - a story that is very much a part of many Pasifika families' histories.
"The inspiration is my parents' story. They came here in the 70s to a place they knew as the land of milk and honey," he said.
"When they got here, they could only do factory work. Growing up, that's the memory I have of my father - working at the bed factory in Ponsonby and struggling to pay the bills.
"It was a hard life and a life many Pacific Islanders from that generation went through.
"This is for them."
Manusaute said the show was very much an entertainment piece; but it was also a political statement in some ways and would be a sad memory for some people.
"We have a palagi as the boss of the factory. That was very hard for me to cast - I wanted to think that there could have been a Pacific Island boss back in the 70s, but I don't think there was.
"It was just how things were back then."
He said the hope was to remind people of all backgrounds of the situation many families were in and had come from.
"These are not the kinds of stories you learn in school. Yet it's a part of New Zealand history.
"I want a palagi person to come and see what the Pacific story is.
"I want the Pacific youth to come and see what their parents and grandparents went through.
"As for the Pacific parents who went through this, I think they will come and watch, remember it and cry."
The show kicks off today and runs through to Monday at the Q Theatre.