A bigger budget and more sponsorship has increased scope - and workload - for artistic director Carla van Zon.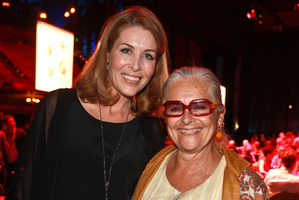 If you see Auckland Arts Festival artistic director Carla van Zon wandering around town over the next couple of weeks, give her a bottle of water and something healthy to eat to boost her stamina for the duration of the programme.
Van Zon and her team have been working seven days a week for the past several weeks and the concept of an early night has become foreign to her.
"I am trying to eat a bit better," she laughs. "Otherwise you get that kind of liquid diet of wine which is not the best."
This is the first time van Zon leads the biennial Auckland event, now in its sixth outing. After directing the International Festival of the Arts in Wellington in the 1990s, Auckland-raised van Zon takes over from previous creative heads Simon Prast and David Malacari, who each had their struggles with sponsorship and governance issues.
Now van Zon and chief executive David Inns both feel sponsorship and ticket sales are on target.
"They are certainly buying tickets earlier than ever before, which is unusual," says Inns, adding that "we can talk about the budget when it is over but it's bigger than last time. Our sponsorship portfolio is wider than last time and we've had a big growth in our individual giving."
"David and the board have worked very hard to give me additional funding outside of where we started and then we formed a lot of partnerships," says van Zon. "This programme now is significantly bigger than it was when we started."
Visibility - or a lack of it - has been a bugbear during previous festivals, with virtually no street presence in the form of banners or advertising a consistent source of complaint.
Not this time, say van Zon and Inns.
"We are painting the town pink," says van Zon. "We are extremely happy with our marketing and PR campaign. Colenso BBDO did a great job developing our brand and our pink. We are very happy with what's happening in Aotea Square and the Festival Garden.
"We have a big banner across Broadway in Newmarket, a banner at the airport, banners on the waterfront, so we are feeling that the pink is really helping."
Van Zon is coy on strong rumours that the festival is about to announce it will go annual. "For us to create that ongoing brand awareness and for us to keep our skill base, we need that festival every year and that is a work in progress at the moment. It is a mini-step at a time," she says.
Today, van Zon plans to attend a blessing in Aotea Square to mark kick-off, followed by the opening at 11.30am of the school dream flag project Fly Me Up To Where You Are, also in Aotea Square.
This evening she will flit between Pacific Island musical The Factory, American blues singer Ruthie Foster, Australian cabaret act Cantina, rehearsals for tomorrow night's French pyrotechnic act Groupe F at Auckland Domain, as well as "meet all of our artists that night". Someone, give the lady a drink.