This weekend's Pasifika Festival is just the start of a cultural celebration in Auckland, the biggest Polynesian city in the world. Scott Kara reports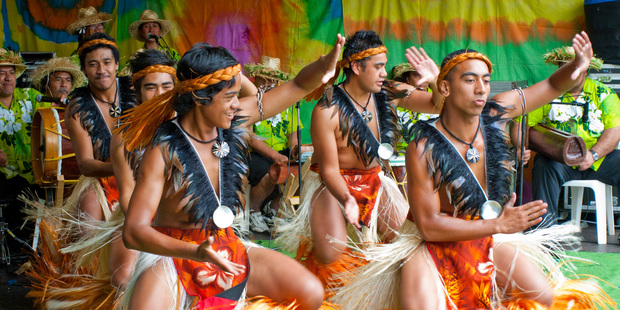 As the Pasifika Festival turns 21 this weekend, it has gone back to its roots with a focus on being more authentic - and what better place to start than with the food?
While the smells wafting around Western Springs Park every year since 1992 have always been mouth-watering, this year the menu is fully traditional. There will be everything from tunu puaka (that's Tongan for pig on a spit) and sua ika (Tokelauan for fish boiled in coconut cream), or perhaps poke, a tasty banana dessert from the Cook Islands, is more to your liking.
For Pasifika producer Stan Wolfgramm, selling authentic Pacific food is a big part of restoring it to being a true cultural festival.
"I think it was heading a little bit into being more like a show in the park kind of thing," he says. "But it's about preserving what is unique about the event, and really making it a Pacific and cultural event that truly reflects New Zealand's Pacific identity - because that's part of our point of difference from the rest of the world."
This focus on traditional food has meant many of the nations represented at the "villages" dotted around the Pasifika site had to review what they were going to be selling this year.
"It's been really educational for the communities," says Wolfgramm, who has been involved in the festival since the mid-90s and took over the running of it this year.
He believes while the festival has come full circle in terms of getting back to its Pacific roots, it's also about bringing the many other communities and nationalities living in Auckland together, too.
"It's gone past grass skirts and corned beef from South Auckland. It's a different beast from what it was in the past, but it's still a beast," he laughs, referring to the tens of thousands who attend the festival each year.
Pasifika is the biggest event as part of Pacific-As, a month-long celebration of Pacific-themed cultural shows, exhibitions, concerts and sporting events happening around Auckland in March. There's everything from culture events such as ASB Polyfest and a number of Pacific cross-over shows as part of this month's Auckland Arts Festival, including the first Pacific Island musical, The Factory, through to contemporary music expo Sounds Aotearoa and plenty of oval ball entertainment with the Warriors, Blues, and the Blues Development squad taking on Samoa A and Fiji A at Waitemata Rugby Football Club.
Pacific-As is an Auckland Tourism, Events and Economic Development (Ateed) project that brings together many of the year's major Pacific events under one umbrella.
"Conveniently a lot of that Pacific content comes reasonably close together in the calendar year," says Jennah Wootten, Ateed's major events manager. "So as the deliverers of the Pasifika Festival we saw a great opportunity to collaborate with other event organisers to showcase all the [Pacific] content that's out there.
"And really, Pacific-As is an opportunity for us to make it bigger and better, and there really is something in that programme for everyone."
Here's a run down of some of the must-sees ...
Pasifika Festival
Apart from tucking into as many of the sweet-smelling foodie delights as you can, there is a lot of music to check out and dancing to be done - to work off that tunu puaka or boil-up you've just eaten - at this year's new two-day event. Aotearoa is the host nation for this year's festival with Moana and the Tribe (hopefully) cracking into classic single AEIOU (Akona Te Reo), plus performances from veteran hip-hop crew Dam Native, and te reo singer Toni Huata. Also on the bill are a real-deal, 50-strong Tongan brass band direct from, well, Tonga, and for something spiritual there is a choir performance as part of the Sunday church mass from 9am. And did we mention the food?
Where and when: Western Springs, March 9-10
More info: aucklandnz.com/pasifika
Sounds Aotearoa
As well as the place to hear some good sounds, there will also be some handy advice about how to become the next Azealia Banks at this expo-style event. The two-day summit features talks and discussions in the morning sessions by local and overseas music industry experts, including expat music industry jack-of-all-trades Nathan Graves, who will be talking about his successes, failures, and the challenges facing musicians in today's fast-changing music world. In the afternoon there are performances from Maori singer-songwriter Maisey Rika (who also stars in Auckland Arts Festival show Everything is Ka Pai), trumpeter and producer Isaac Aesili's band Funkommunity, and veteran entertainer Will Crummer (Annie's dad) and his group the Rarotongans (also in Everything is Ka Pai).
Where and when: Aotea Centre, March 10-11
More info: soundsaotearoa.com
ASB Polyfest
Like the national kapa haka champs, only featuring both Maori and Pacific Island groups from high schools around New Zealand.
The festival is older than Pasifika, and now in its 38th year it's bigger than ever with 9000 students from 59 schools taking part. Expect fearsome and accomplished performances from these highly drilled school groups across six stages.
Where and when: Manukau Sports Bowl, Te Irirangi Drive, Manukau City, March 13-16
More info: asbpolyfest.co.nz
Everything is Ka Pai
This is the show to see Anika Moa get her Prince Tui Teka groove on as classic Maori waiata, including Ten Guitars, Tutira Mai Nga Iwi, and Blue Smoke, are given a modern twist by today's best Maori and Pacific Island musos as part of the Auckland Arts Festival. As well as Moa, the musicians include singer songwriter Maisey Rika, crooner John Rowles, and Wellington's supergroup covers band the Yoots. Listen out for a psychedelic reworking of Ten Guitars with, you guessed it, 10 guitarists.
Where and when: Auckland Town Hall, March 16
More info: aucklandfestival.co.nz
Adeaze
New Zealand-born Samoan brothers Feagaigafou and Logovii Tupa'i (aka Nainz and Viiz) are truly the nice guys of New Zealand music, and as R&B soul duo Adeaze they have two of the sweetest voices out there. Their recorded output has not been huge - they have only released two albums in nine years, including their big selling debut Always and For Real in 2004 - but you have to admire their sweet-as attitude.
"We had no doubt we were going to pop out another album, we just didn't think it would take seven years," Nainz told TimeOut a few years back when they released second album, Rise and Shine. They play a free concert as part of Auckland Council's Music in Parks programme.
Where and when: David Lange Park, Mangere, March 23
More info: musicinparks.co.nz
What: Pacific-As
Where and when: Various venues until March 31
- TimeOut