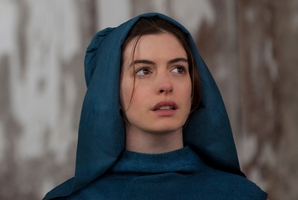 Anne Hathaway wants to star in 'My Fair Lady'.
The actress is hoping to capitalise on her Oscar-nominated performance in 'Les Miserables' by landing the lead role of Eliza Doolittle in a stage version of the hit musical.
She told the Daily Mail newspaper: "I haven't heard for a while what's happening with 'My Fair Lady' and I don't know whether I would do it on stage, or screen, but either would be a treat."
The actress was reportedly being lined up to star in a film adaptation of the long-running show opposite Colin Firth, but the film rights fell through.
Legendary music mogul Clive Davis announced earlier this week that he will produce the show on Broadway and is hoping to sign up Hathaway and Firth for the lead roles.
However, the Daily Mail claims the actress could take to the stage in London's West End alongside Dominic West.
Hathaway will get another chance to showcase her impressive vocals later this year since a musical number has been written especially for her in upcoming drama 'Song One'.
Her one-time co-star Jim Sturgess has also confessed he isn't surprised by her singing success and thinks she is perfect for musical roles.
Sturgess told BANG Showbiz: "I know how much she loves singing. When we were shooting the film 'One Day' she was always breaking out into theatrical songs. So I was already pretty sure that she'd be able to pull ['Les Miserables'] off."
- BANG! Showbiz