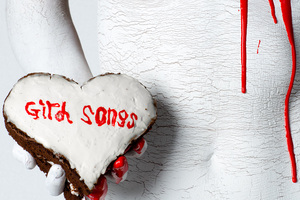 Releasing an album called Girl Songs on Valentine's Day could be seen as a gimmick - especially when notorious prankster Tom Scott is involved. But as the Home Brew chief proved with last year's No1 double album, he has a midas touch that supersedes his hijinks. That continues with @Peace, a five-piece side-project that shows off a classier, more serious side to Scott's otherwise confrontational attitude. Don't be fooled by the title of this 10-track EP - as the super-explicit Cake shows, these are not songs for girls.
Mostly, the follow-up to 2011's excellent self-titled debut examines a failed relationship from a male perspective - or as Scott puts it on the cruisy jazz of Cats Like Fish: "Broken hearts everywhere, blood all over your hands." The laid-back vibes and summery soundscapes employed here are disarming - there's an incisive vision full of real emotion behind these songs. Check out Scott's "I miss you" call after his blistering verse on the woozy standout Days Like This, fellow MC Lui Tuiasau's emotional verse on Flowers, detailing the angst caused by an unanswered text message, and 2 Die 4's relentless bass and furiously unhinged apology to a spurned lover.
Okay, it won't soundtrack your next date night, but Girl Songs proves guys have hearts, too - and they're not afraid to show it.
Stars: 4/5
Verdict: Rising Kiwi rap collective shows some class
- TimeOut