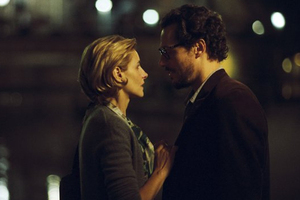 The new film by the writer-director of 2008's brilliant I've Loved You So Long, in which Kristin Scott Thomas played a woman just released from prison, is an altogether lighter affair. Wistful and bittersweet, it lacks the dramatic punch of its predecessor - indeed, the pacing is a bit loose at times - but it is distinguished by the same emotional intelligence and lucidity and makes a rewarding watch.
Accorsi, a familiar face to Italian Film Festival audiences, plays Alessandro, an Italian-born professor of Baroque music in the French city of Strasbourg, who still mourns his late wife, Louise, 15 years after her death. He copes by infantilising the now-teenage daughter she left him with, Irina (Cipriani), who is in some ways more mature than he is: she remarks that Louise "takes up so much space" in their small flat. There is still room for Alessandro's anarchist painter brother Luigi (Marcore) who, in a running gag, is in self-imposed exile and refuses to leave the house, as a protest against the incumbency of Silvio Berlusconi.
Alessandro's loneliness - and the attempts of others to rescue him from it - is the spine of a story that is sharply observed, crisply written and packed with detail.
The various subplots make for a large cast - Alessandro's circle of friends; workmates; the hospice patients he visits as a volunteer (including Agathe, a luminous Aimee, 80 in April) - yet it never feels cluttered and each of the characters is well-drawn.
And the elegance with which Claudel contrives to have a catastrophically ill-advised piece of matchmaking turn out both dreadfully and wonderfully is something to behold.
It's a script assembled with a cabinetmaker's precision and forethought: even the setting's ravishingly handsome city - in part of France that has repeatedly been part of Germany - underlines the theme of rootlessness and identity that is so central to the main characters' emotional arcs. And the main characters - especially father and daughter - are effortlessly charming.
For a romantic comedy, this film has a serious heart: the significance of its English title takes on different hues as the story progresses. It is, in the end, a film about how hard we make it for ourselves to be loved. As Agathe says cryptically: "The dead have their whole lives ahead of them; it's the absent who haunt us most." Recommended.
Stars: 3.5/5
Cast: Stefano Accorsi, Neri Marcore, Clotilde Courau, Lisa Cipriani, Anouk Aimee
Director: Philippe Claudel
Running time: 102 mins
Rating: M (offensive language) In French and Italian with English subtitles
Verdict: Bittersweet and rewarding
-TimeOut