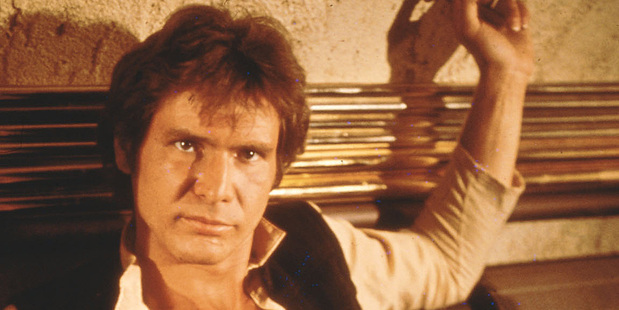 A young Han Solo and the bounty hunter Boba Fett have been touted as stars of upcoming Star Wars spinoffs.
Disney chief executive Bob Iger revealed on the weekend that scriptwriters Larry Kasdan and Simon Kinberg are working on stand-alone Star Wars movies that aren't part of the new trilogy in the works.
Entertainment Weekly reported one of the spinoffs will focus on the early adventures of Han Solo, who was played by Harrison Ford in the original Star Wars trilogy.
Another is expected to star Boba Fett, the masked bounty hunter who has become a fan favourite despite having a peripheral role in the Star Wars films.
The Solo film will reportedly focus on the smuggler's adventures before his life-changing meeting with Luke Skywalker in Star Wars: A New Hope, while the Fett feature will be set between two of the original films.
Star Trek producer and director JJ Abrams has signed on to helm the first of the new trilogy of Star Wars films.
Star Wars: Episode VII will be written by Michael Arndt, who also wrote Toy Story 3 and Little Miss Sunshine.
Darth Vader is rumoured to be making a comeback in the new films.
They are expected to advance the stories of Solo, Luke Skywalker and Princess Leia.
- nzherald.co.nz