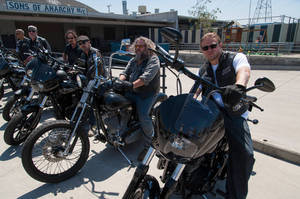 Guns, drugs, hookers, porn and ... Shakespeare? Not what you'd expect from a TV show about bikers, surely.
But Sons of Anarchy offers its fans a lot more than the stereotypical view of the leather-clad outlaws, especially as the story is based on Hamlet.
There's the lone prince, Jackson "Jax" Teller (Charlie Hunnam) whose father is dead and whose stepfather Clay Morrow (Ron Perlman) is now king, or in this instance the president of the motorcycle club.
Add to that Jax's scheming mother Gemma (Katey Sagal), who emerges as more of a Lady Macbeth character as the series unfolds.
Perlman believes what draws in audiences is the same thing that appeals to actors - the writing.
"The work is only interesting when the writing is smart and consequential," he says.
Clay's hold on his world is shaken in season five as Jax takes centre stage, a place that Hunnam says he feels is more right for the character.
Long-term fans will be shaken with the death of another core character at the beginning of the season, which Hunnam says shook him deeply.
He said it was no easier rehearsing and then shooting the character's final scenes.
There are lighter moments in the new season, many provided by guest star Jimmy Smits, whose role as the pimp Nero also provides some tension between Clay and Gemma.
Sagal says it was no hardship to work with Smits.
"Women - me included - love Jimmy Smits, he's kind of dreamy," she says. "We have a really good chemistry, the two of us, and I'm not quite sure exactly where it's going ... but so far it's wonderful."
Smits agrees that he and Sagal work well together, while acknowledging the difficulty of finding his place in a long-running series.
The lightness he brings to his character comes from looking to find what makes Nero tick.
"I'm always trying to find the humanity in the character ... "
TV preview
What: Sons of Anarchy fifth season
Where and when: Starts TV3 tonight
-AAP