Story of flyer who survives crash only to enter booze-addicted meltdown marks director's return to realism.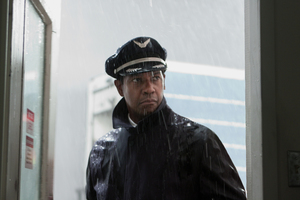 After a detour into animation, Forrest Gump director Robert Zemeckis returns to live-action film with Flight, which starts with a plane crash but centres more on personal rather than airborne crises.
Denzel Washington stars as a pilot who becomes a national hero for crash-landing a malfunctioning jet, but faces another harrowing descent when alcohol and cocaine are discovered in his system.
The movie took more than 10 years to come together, from a screenplay by John Gatins, whose previous credits include Real Steel and Dreamer.
Washington plays Whip, a commercial airline pilot whose skills and sangfroid help him save almost all of his plane's passengers and crew after it goes into a steep dive due to a technical problem.
But the adulation his achievement triggers come down to earth with a thud when lab results reveal his addictions, while he falls in love with a young drug addict who is also battling to get clean.
"Their substance abuse is the symptom of deeper problems," Zemeckis says.
"They were that way because they have deeper issues.
"They were using the chemicals, but it could have been anything: food, gambling, work. They just feel this sort of void."
Washington agrees, saying that in preparing for the role he didn't focus on his character's alcoholism.
"I didn't really want to get too much into the AA (Alcoholics Anonymous) side of it, or try to be an alcoholic, because he didn't think he was alcoholic.
"I was a guy who drank. In my mind, he's like anyone who has one drink a week. He doesn't realise how far he's gone."
Screenwriter Gatins says the movie is partly autobiographical.
"I got sober when I was 25, so when I started writing the script I was probably 30 or 31. All those themes of alcoholism and addiction were kind of like in my whole life," he said. "And I'm a nervous flyer."
From its opening scene, combining full-frontal nudity and lines of cocaine, it is clear that Flight differs from most big Hollywood studio movies.
It is reminiscent of the 1970s, "that glorious period where people made really ... tough movies to watch, that forced you to sit there, because they took their time sometimes," says Gatins.
For Zemeckis, who won best director Oscar for Forrest Gump in 1995 and whose films include the Back to the Future series, the film marks a return to live action after movies such as The Polar Express.
Apart from the virtuoso crash scene in Flight, the tone of the movie is personal and intimate, with flashes of humour. "Humour is very important. I have this approach to movie-making that movies should be entertaining," he says.
Movie preview
What: Flight starring Denzel Washington
When: Opens at cinemas tomorrow
-AAP