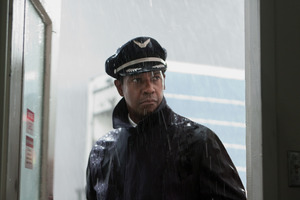 The new drama by Robert Zemeckis, making his first foray into straight-ahead drama since the improbably entertaining Cast Away, is a film with everything: it is (reading from start to finish) thrilling, confronting, serious-minded, moralistic and disappointingly sentimental.
To put it another way: it starts out with a bang and ends with a whimper.
The bang is the sound of SouthJet flight 227 as it crash-lands on an open field not long after take-off: at the controls is William "Whip" Whitaker (Washington), whose ballsy quick thinking (which includes a spell of flying upside down) dramatically limits the death toll. The whimper is the final scene, which rehearses the eternally lustrous American redemption narrative as the strains of the full orchestra swell.
The crash sequence is certainly a cracker - I was leaning sideways at one point, as if willing the plane to pull up - and we know what a miraculous achievement it is because we saw Whitaker wake up that morning, next to a sexy flight attendant in a hotel room littered with liquor bottles, and straighten himself out with a couple of lines of cocaine.
After the crash, he's hailed as a hero for overcoming a catastrophic component failure, but routine toxicology shows he's an idol with feet of clay.
As a species, we are hard-wired to fear flight, so Whitaker's double life is profoundly shocking, the more so because of the eerie, leonine grace with which Washington carries it off.
We know he's a coked-up drunk, but as he pads the corridors in that crisp uniform he looks just like every other pilot - dripping with authority; little wonder that pilots' associations have objected to the movie.
They need not have worried. This is not a dramatic attempt to tear the lid off airline monitoring of personnel or aircraft. Nor, despite the forced discussion a hospitalised Whitaker has with two fellow patients about whether God is a wanton jokester, does it seek to wrestle with larger questions as Peter Weir's marvellous Fearless did 20 years ago.
What it degenerates into is the straightforward story of an alcoholic's fight against his inner demons and it is a remarkably authentic and unsensational account of that reality.
Washington, who has an Oscar nomination for the role, gives a nuanced and smart performance of a man who sees deceiving others as a right conferred by his genius. His Whitaker mixes cocky swagger with self-pity with the precision of a cocktail barman: he can segue from anger to calculated manipulation without breaking stride.
But it's a performance at the heart of what is, in the end, a rather lame film.
Cheadle, as a lawyer struggling to keep the focus on a tail-plane jack screw and not on his client's substance abuse, seems a wan, almost irrelevant figure, because he's acting in a quasi-legal drama. Nobody told him that he was in a disease-of-the-week weepie.
Stars: 3/5
Cast: Denzel Washington, Don Cheadle, Bruce Greenwood, John Goodman
Director: Robert Zemeckis
Running time: 138 mins
Rating: R16 (offensive language, drug use, sexual themes)
Verdict: Loses its nerve
- TimeOut