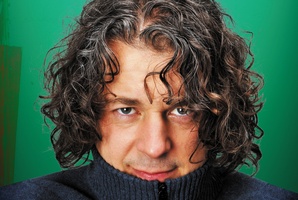 Life is Pain is a peculiar name for a comedy show by the affable and chipper Alan Davies.
Despite the grim title, which is taken from the response a young girl Davies knew once gave to her mother scolding her, the Jonathan Creek star comes across on stage much as he does on QI - cheery, silly and quick-witted.
Performing in New Zealand for the first time in 15 years, Davies' show is based off his own life experiences, of growing up in Essex, drama school with lesbians, and the fear of babies dying.
Davies has a habit of straying away from his routine and engaging with the crowd, from finding out which bus a group of train commuters late to their seats should take to get back home to Mt Albert (it's the 69, FYI), or whether two separate parties from a small town in Yorkshire know each other (it appears they don't).
These off-the-cuff moments are among the best in the show, with the crowd very much involved in the entertainment, even though as Davies says these are the parts of the show "you haven't paid for".
Given the location, the show at one stage starts to feel like a Town Hall meeting, with Davies learning about Aucklanders' gripes with our dismal public transport system and sharing his own feelings about New Zealand's obsession with The Hobbit (an English book written by an Englishman, he says).
The 46-year-old jokes his memory is fading and reveals that when he walks to the left of stage to get a drink of water he is actually checking notes tacked to a wall to see where he is in his routine.
Davies clearly enjoys himself on the stage, and is often in fits with the sold-out crowd.
By the end of the show, your jaw will hurt from laughter, you'll have learnt a thing or to about growing up in Essex in the '70s and '80s, and you may have just be reunited with an old friend from Blighty in the audience.
Alan Davies - Life is Pain
Friday, February 2
Auckland Town Hall