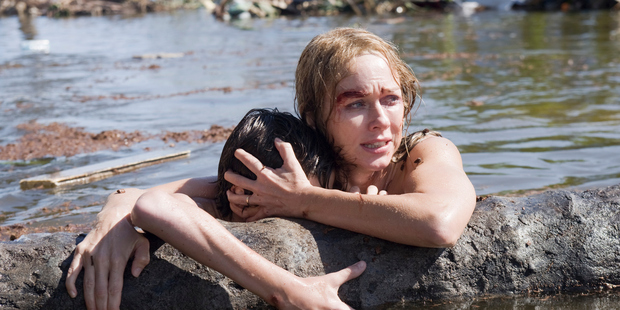 Naomi Watts was in Los Angeles, on a break from filming King Kong in New Zealand, when it happened.
"I was glued to the TV, watching in shock and horror," she says. Director Juan Antonio Bayona was home in Spain, having Christmas with his family, when word of the tsunami of 2004 arrived. He, too, saw the horror, images he says he could not shake from his memory. And when he heard one Spanish family's story of their experience in Thailand, he became a movie-maker with a mission.
"I don't know how, and I don't know why, but the moment I heard this story it spoke to me in this very direct way," he says. "It turned into an obsession for me."
Bayona's mission was to make a movie about the catastrophe, personalising it by telling one family's true story of tragedy and triumph.
"My intention was to show what the news could not - to personalise it by limiting the point of view to only what they saw and knew and when they knew it.
The tragedy happened so fast, in so few hours, that even those living through it did not have time to think about it. I wanted an emotional experience, an emotional journey, not an intellectual one."
And to get that emotion across, to film The Impossible, as his movie was titled, he needed Watts to play an English version of the badly injured mother, trying to take care of herself and her son, not knowing if her husband (Ewan McGregor) and their other sons survived the disaster.
"She has a natural instinct for tragedy, a gift for playing tragic women," Bayona says.
The movie-star-gorgeous Watts, 44, would have to cast aside any thoughts of the glamorous world she travels in and movie star vanity.
"There is a time and a place for vanity, and I knew that by the fifth page of the script that this was not going to be that film," she says.
"I welcomed letting go, having to wear almost no clothes - blood and wounds and scratches and dirt and very bad hair days. You can't be thinking, 'We must put the wound over here because that highlights my cheekbones.' This is not that film."
What Maria, her character, offered was the chance to play a heroine with conflicting agendas. She is a woman clinging to life, a mother struggling to live long enough to see that her 12-year-old son is safe, someone who must put aside the grief for her missing family and her fear for her own life and finish the task of raising her son, in mere days.
"She is a hero in the truest sense," Watts marvels. "What surprised me was how she took everything down to the purest instinct of herself. Her priorities got into alignment ... Every moment, she was utterly in the here and now.
"She couldn't live beyond that space she was in. Her other kids are probably dead? Her husband, too? For her and her son, that wasn't their story in this moment. It was in them. They realised it. But they couldn't go there.
"If they do, they're weakening themselves and reducing their chances of survival. She needed to survive and needed her son to survive.
"I don't think we have that kind of clarity in our lives - ever."
Bayona, 37, can't help getting choked up when he recalls Watts in her most wrenching moments, portraying a "woman who has to decide, moment by moment, as she is dying, what would be her last act in her life, what she would teach her son. What she chose was a lesson in humanity, that as dire as their situation is, they must take a moment to try and rescue this other kid. I think that lifted her in her son's eyes, and in the audiences, to the level of hero."
He set out to tell one family's story of survival on an epic canvas, a movie that would require vast, devastated sets and convincing special effects. But what Bayona was left with, after doing all the research, was a renewed faith in humanity, something he decided that The Impossible was really about.
"The most beautiful ideas that emerged from our research had to do with how kind people were," he says, getting emotional again.
"People who had lost everything were the most giving. It's a difficult film, with some very uncomfortable images, but I hope it is a very positive way of seeing humanity.
"The tsunami was awful, but people's response to it was gentle and full of kindness."
Who: Naomi Watts
What: The Impossible opposite Ewan McGregor
When: At cinemas now
- AAP