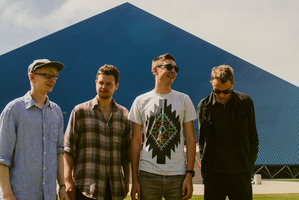 Kylie Minogue, meet Dr Dre. That's one of the first surprises that greets fans at Alt-J's sold-out Melbourne show - the band's lightly-does-it mash-up cover of Minogue's hit Slow and Dre's Still Dre. They call it - you guessed it - Slow Dre.
It's one of the first songs the band recorded and it's become a highlight of their live set - one that's likely to be included during Alt-J's anticipated performance at Laneway.
Their packed Australian show at the Ding Dong Lounge proved just why there's so much hype about them: A year of touring has seen Alt-J honed into a tight live unit, and with over 13 songs, including a two-song encore, the band members deserve every moment of applause delivered to them. That's whether they're playing the haunting tones of Matilda, the spine-tingling chorus of Tessellate, the chamber-pop bass blitz of Fitzpleasure, sing-along piano ballad Something Good or Breezeblocks, the set highlight that shows off Thom Green's metronomic drumming and Joe Newman's at-times haunting falsetto.
It's like Radiohead singing Celtic sea shanties with a drunk Grizzly Bear. And as random as that description sounds, it all makes sense once you see them live.
You can't help but think Alt-J will be playing much larger venues very, very soon.
Who: Alt-J
What: Album, An Awesome Wave, out now. Reissue due January 18
When: 5.20pm, Hey Seuss Stage
Listen: New single, Something Good
Pick up TimeOut in tomorrow's NZ Herald for full Laneway coverage.
-TimeOut