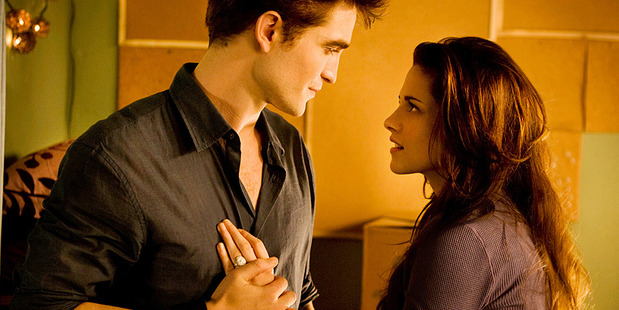 Is it really curtains for star-crossed lovers Robert Pattinson and Kristen Stewart?
Just months after the couple got back together following Stewart's well-documented "momentary indiscretion" with married Snow White and the Huntsman director Rupert Sanders, a certain British tabloid claims they've called it quits "after a difficult festive period together".
According to The Sun, Pattinson, 26, called time on their relationship over the weekend.
"She flew to LA and was supposed to be Rob's date for the Golden Globes, but he told her he wants to cool it off," a so-called 'source' dished to the website.
"He loves her but would rather go back to being good friends so they can rebuild their trust and focus on work after Twilight.
"Kristen's upset but understands. She shouldn't have pushed him to reconcile after her infidelity. She's hoping he'll come around and time will be a great healer."
The newspaper claims that Pattinson's friends played a part in the split after they gave him a hard time for taking her back.
Adds the source, "He was getting so much pressure to ditch her. His friends told him to focus on his career and said she was wrecking his chances."
The report goes on to claim that while Pattinson will stay in his LA home, Stewart, 22, will hightail it to New York for "a fresh start".
An insider said: "She feels people leave her alone there and she has a bit more peace."
But here's the rub, folks. According to Gossipcop.com, there was no breakup, and the website brands the split story "100 per cent false".
Sources also tell Yahoo! omg! that the report is "definitely not true."
Which sounds right on the money. Given the fact that the couple, who resurrected their three-year romance back in September, was spotted together at a bash following Sunday's Golden Globes.
Pattinson may have been solo at the awards ceremony itself, but Stewart joined the Twilight star at Soho House in West Hollywood for co-hosts Tina Fey and Amy Poehler's late-night bash, People reports.
"They hung around each other, but [they weren't] on top of each other," a source tells the website. They "hung out and stayed close for over an hour," notes Us Weekly, before heading to another star-studded shindig with friends.
Life & Style magazine also stirred the mix last week. It claimed that there was trouble in paradise, and speculated that the pair will soon split.
"Things with them aren't good. They've been fighting a lot. Rob isn't happy. It's just a matter of time before he ends this," chimed a source.
"Rob is at a point where he sometimes ignores her.
"He'll go out and won't respond to her calls or texts right away. Things will be strained for a while.
"She knows she has to go along with it. She is working hard at the relationship."
Yep, file it under "tabloid hokum".
Meanwhile, Pattinson was spotted departing Melbourne airport for Adelaide after jetting in from Los Angeles yesterday. He's spending the next several weeks shooting Animal Kingdom helmer David Michod's futuristic western The Rover Down Under.
Check out snaps of a chipper-looking Pattinson flashing his pearly whites in Oz here.
FAST GOSSIP
And finally...
* "In a perfect world, of course I would love to be divorced" - Kim Kardashian can't wait to be legally single again.
* Sarah Jessica Parker cut from porn drama, Lovelace.
* Happy families: Michael Lohan denies calling his daughter Lindsay a high-class escort.
* "I just don't find urination shocking" - Nicole Kidman talks Paperboy pee scene.
* Pregnant Shakira unveils baby bump photo.
* Jennifer Lawrence accuses tabloid of photoshopping her butt.
* Demi Moore covered in mud at "bikini boot camp". Say what? Just click here.
* Terminator 2 star Edward Furlong fired from movie over domestic violence arrest.
* Heath Ledger's parents speak out on anniversary of his death.
* Monaco royals slam Nicole Kidman's 'historically inaccurate' Grace Kelly biopic.
* Listen: Samuel L. Jackson takes on Taylor Swift's We Are Never Ever Getting Back Together...
- Rumour Has It