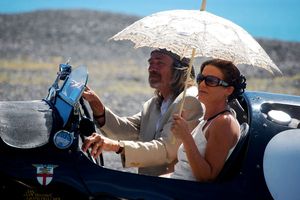 Event ticket sales for this year's Geon Art Deco Weekend which kicks off in a month are ahead of last year's figures, with the "sold out" sign having gone up on dozens of shows and events already.
"It has been going very good," events manager Peter Mooney said, adding that the four-day festival was set to have a truly international feel with the arrival of a French navy ship, and news in the last few days that the Argentinian Embassy in Wellington was eager to participate.
"They are sending a tango band and the national tango dancing champions here for the weekend which is great news."
Mr Mooney said the tango troupes would appear at the grand opening soiree on Friday evening at the War Memorial Centre, and play and perform at the Sound Shell before the Royal New Zealand Navy Band's 'Saturday Night at the Shell' concert.
The Sound Shell event will be free to the public.
Another late addition to the programme is an additional concert from the navy band.
They will play a one-off lunchtime concert at the Municipal Theatre which will feature traditional military band music, as well as a spread of dixie, jazz and classical.
The band's regular vocalist Kelly Kahukiwa will be joined by world-class soprano Viktoriya Dodoka.
The band's new director of music, Lieutenant Commander Owen Clarke, said he wanted to see the band play more public concerts.
"This is a fantastic ensemble and performing to the public is what we are all about. The band thrives on it."
Tickets for the noon concert, which are set at $5 and $12, will be available through Ticketek.
Mr Mooney said the additional events had been offset, however, by the sad news that the popular Caruso Cuisine, steered by well-known local musician Buddy Collins, had been forced to cancel.
He said Mr Collins' poor health meant the event was unable to go ahead.
"Buddy does it in his own wonderful inimitable style, so it just would not be the same without him."
A large number of bookings for the events had again come from overseas Art Deco enthusiasts, Mr Mooney said.
"For many people this is their once a year get-together."
He said booking details showed there were at least five or six groups, numbering between 20 to 30, from all over the world who booked into events together.
Australians lead the overseas visitor numbers set to converge on Napier, followed closely by the UK, the US and Canada.
A Swiss and French couple will also be making the long journey to the Bay for the big weekend.
For more articles from this region, go to Hawkes Bay Today