Follow our live updates from the red carpet as the stars arrive for the Golden Globes in Los Angeles.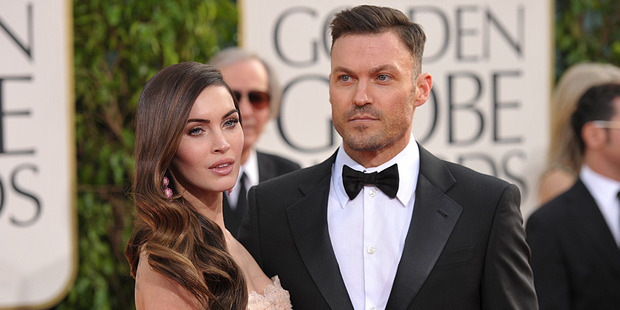 Hollywood's finest have begun heading down the red carpet ahead of the Golden Globes.
All eyes will be on the stars' dresses in the buildup to the show where Steven Spielberg's political drama Lincoln has seven nominations, ahead of Ben Affleck's Iran drama Argo and Quentin Tarantino's spaghetti Western tribute Django Unchained, both with five nods.
Taiwanese-American Ang Lee is also up for best movie with his sumptuous 3D adventure Life of Pi, as is Oscar-winning Kathryn Bigelow's controversial Osama bin Laden manhunt movie Zero Dark Thirty.
The three-hour Globes telecast, beamed live around the world, is preceded by a couple of hours of red carpet action as Hollywood's A-listers strut their stuff.
Clear blue Californian skies provided the perfect backdrop as movie industry folk arrived at the Beverly Hilton hotel ahead of the show, with onlookers lined across the street hoping for a glimpse of their favourite star.
The Globes, which also include television category awards, are generally more relaxed than the more prestigious Academy Awards, with a party atmosphere usually steeped in alcohol served before, and during, the show.
"It's our job to keep things moving, and also try to get the movie stars more liquored-up so that hopefully someone's boob will fall out of a dress," said co-host comedian Tina Fey.
Naomi Watts, who has been nominated for Indian Ocean tsunami drama The Impossible, will be there, while Hugh Jackman has a Best Comedy/Music Actor nod for his role in Les Miserables.
Nicole Kidman and Keith Urban scored big with Globe nominations, even though they failed to pick up Oscar nods on Thursday.
Kidman is nominated in two Globe categories: supporting actress for the film The Paperboy; and actress in a TV mini-series-movie for Hemingway and Gellhorn.
Urban secured a Globe best original song nomination for For You, which featured in Act of Valor, an action film about a team of Navy SEALs.
Spielberg's presidential biopic Lincoln won a major boost just days before the show, when it topped the nominations for the all-important Academy Awards next month.
It was shortlisted in 12 Oscar categories.
Lincoln star Daniel Day-Lewis is favourite for best actor, against Denzel Washington for piloting Flight while drunk, Richard Gere for Arbitrage, John Hawkes for The Sessions and Joaquin Phoenix for The Master.
Best actress is slightly more open: Jessica Chastain is widely favoured for her role as a CIA agent relentlessly tracking bin Laden in Zero Dark Thirty, while France's Marion Cotillard has drawn praise for Rust and Bone.
But Britain's Helen Mirren is also a strong contender as a cinema legend's wife in Hitchcock. Also in the running is Rachel Weisz for The Deep Blue Sea.
Other drama films tipped include Tom Hooper's musical adaptation Les Miserables, dark romantic-comedy Silver Linings Playbook and Zero Dark Thirty, which tied for third place with four Globes nods.
The awards are voted on by the Hollywood Foreign Press Association, a group of fewer than 100 members seen as more celebrity-driven than the esteemed Academy of Motion and Picture Arts and Sciences.
Reflecting the perhaps less high-brow taste of the HFPA, Ang Lee's Life of Pi, which picked up 11 Oscar nominations, is running in only three Globes categories.
On the comedy and musical front, best film nominees are Indian-themed The Best Exotic Marigold Hotel, Silver Linings Playbook, Les Miserables, Moonrise Kingdom and Salmon Fishing in the Yemen, starring Ewan McGregor.
Best comedy/music actor nods went to Jack Black for Bernie, Hangover star Bradley Cooper for Silver Linings, Jackman for Les Mis, McGregor for Salmon Fishing and Bill Murray for Hyde Park on Hudson.
- AFP