Writer-comedian looking forward to the challenge of new 7pm TV show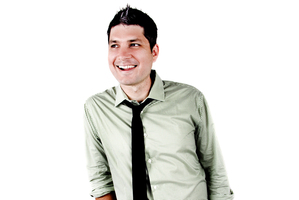 The joker element to TV One's replacement for Close Up has said his role will inject "comic energy" - but there will still be room for serious debate.
Jesse Mulligan, most recently a writer and panellist with TV3's 7 Days, will host Seven Sharp alongside Ali Mau and Greg Boyed, and yesterday said the new programme was just the challenge he had been looking for.
"I've worked in comedy about the news over the last few years and there have been some stories we haven't been able to touch because no one wants to see seven comedians laughing at tragedy or something potentially quite serious.
"I'm interested in finding a way to talk about those stories in the same way any other person does."
In that respect, Seven Sharp would be a natural progression to a career that has also included writing and breakfast radio.
"I was definitely looking at what the next thing might be, so this feels like a natural fit."
He said the show was still a "work in progress" - the presenters haven't even been told the on-air date - but he felt Seven Sharp would be talking about "issues people were interested (in)".
"My role, I guess, is to ask the question the people at home are asking in sort of layman's terms, and maybe the question others might be afraid to ask because they're afraid of looking stupid."
He found out the job was his - after two auditions - just before Christmas, but wasn't able to speak until yesterday.
"There was one slightly awkward audition when we were meeting each other for the first time and then, luckily, had another go at it, and had an amazing audition when we all suddenly clicked really well (and) could see what the show would look like straight away."
He said he looked forward to being on television five nights a week.
"You really became part of the furniture when you're on each night, which is a special thing - and rare in New Zealand television."
Asked about the criticism that Seven Sharp would be "infotainment", Mulligan hoped there would be a good mix.
"I think the test will be, is it interesting?
"The most exciting thing for me is to inject some of that comic energy into a 7pm show which is a great challenge and neat opportunity."
TVNZ head of news and current affairs Ross Dagan said the team had an unsurpassed journalistic pedigree and ability to entertain. "We are confident this team will tell compelling stories in a refreshing way that will engage New Zealand viewers.
"Seven Sharp will reflect the day's events with smart thinking, different viewpoints and plenty of laughs along the way."