Two-time Oscar winner says he hates to admit he was born in LA as he makes his directing debut.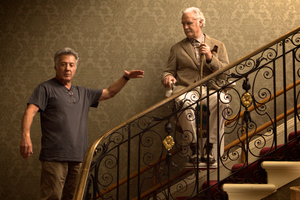 Dustin Hoffman is in a confessional mood. He knows what he is saying might land him in hot water in his homeland.
However, if a 75-year-old two-time Oscar winner can't express his true feelings at this stage of his life, when would he?
Hoffman does not feel very American. He does not believe he even knows the US and accuses it of lacking Europe's passion for the arts.
"I was born and raised in Los Angeles although I hate to admit it," Hoffman said.
"I moved to New York to study acting, the rest of the country is a fly-over country for me unfortunately.
"I have often wanted to drive across the country in a car, not on a freeway, really see the country. I can't say I know my country.
"I watch the news and I love to watch good work and I love great American art whether it is writing or painting or film.
"But I don't feel quintessentially American. I had never even thought about it until I said it."
He won Academy Awards for his unforgettable performances in Kramer v Kramer (1979) and Rain Man (1988) but has always had the nagging air of an outsider.
"I have never hung out with the guys," he said.
"I don't go to a pub. I don't like the films the American public likes. I have never watched a [full] television series in my life."
"I have watched a little bit of it ... I like classical music and I like jazz."
Hoffman grew up on a diet of French new wave cinema in the 1950s and 1960s and has lived off and on in London.
He admitted his comments might not go down well in the US.
"I don't think the American public at large is a country that is as devoted to art or what we might call culture as the Europeans," he said.
He described himself as "cowardly" for not directing a film earlier in his career before finally having the courage to pull the strings on the heart-warming comedy Quartet.
Hoffman started directing the film Straight Time in the late 1970s but quit a few days into the shoot.
He said the inability then to be able to instantly review what had been shot had played on his insecurities and prompted him to chicken out.
Did he regret not directing earlier?
"Yeah, we all have our demons," he said.
He relied on his five decades in the business to tell the tale in Quartet about a famous singing quartet thrust back together at an English retirement home for musicians.
To provide a genuine musical touch he cast several classical musicians alongside the likes of Maggie Smith and Billy Connolly.
Hoffman, a huge fan of Connolly's stand-up, allowed his actors to ad lib, to the delight of the 70-year-old Scottish comedian.
"There is a part where I was singing in the room and say 'I am on fire here' - I was just making that up, they are all real singers so they were all really laughing and falling about at the boldness of it all," Connolly said.
- AAP