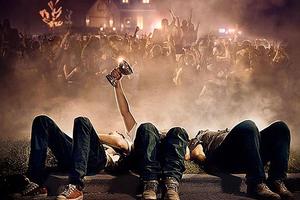 Teen-party film Project X was the most pirated movie of 2012, according to the TorrentFreak website.
With almost nine million downloads, Project X was more popular with pirates than Mission: Impossible - Ghost Protocol, The Dark Knight Rises, The Avengers and Sherlock Holmes: A Game Of Shadows, which rounded out the top five.
The data was compiled through all major BitTorrent trackers, which showed little significant change in the total number of movie downloads, compared to 2011.
Project X was also the lowest grossing movie in the top 10.
Most pirated movies and estimated downloads
1 Project X 8,720,000
2 Mission: Impossible - Ghost Protocol 8,500,000
3 The Dark Knight Rises 8,230,000
4 The Avengers 8,110,000
5 Sherlock Holmes: A Game of Shadows 7,850,000
6 21 Jump Street 7,590,000
7 The Girl With the Dragon Tattoo 7,420,000
8 The Dictator 7,330,000
9 Ice Age: Continental Drift 6,960,000
10 The Twilight Saga Breaking Dawn Part 1 6,740,000
- nzherald.co.nz