From bow and arrows to boy bands and crazy dance moves to golden anniversaries, 2012 will be remembered for...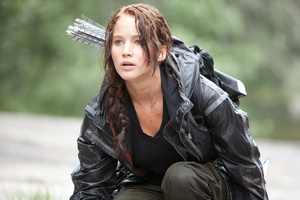 Archery
Thanks mainly to Hunger Games Heroine Katniss Everdeen (played by Jennifer Lawrence) archery was the new cool in 2012. The humble bow and arrow also turned up in the hands of fiery redhead lass Merida in Brave and Hawkeye from The Avengers, and the archery coverage at the Olympics was state of the art stuff too.
The Black Keys
They embarked on their first arena world tour (including Vector Arena in November), sold 1.5 million copies of latest album, El Camino (40,000 of those in New Zealand), got Grammy nominations galore, did a couple of high-profile collaborations, including drummer Patrick Carney appearing on the new Kesha album, and this week played alongside the Rolling Stones, which makes the duo this year's biggest band.
Fairy tales
Fairy tale adaptations were the favoured approach this year, with two TV series (Once Upon a Time and Grimm) mashing up fantasy worlds with real life, and two films (Snow White and the Huntsman with Kristen Stewart and Mirror, Mirror with Julia Roberts) going for kick-ass heroines, rather than damsels in distress.
Reality bites
There was only one place to make the Kiwi version of Jersey Shore and that was in Australia with the "neffs" and "aunties" of The G.C. Meanwhile, closer to home, yet as far from normal reality you are ever likely to get in NZ, came The Ridges, in which Sally and Jaime went about their very interesting lives. Enthralling stuff.
Leading Kiwi men
Karl Urban proved he had the best (and toughest) chin in Hollywood when he donned a futuristic law enforcer's helmet in Dredd, a brutal, bloody and brilliant action film. Meanwhile, Antony Starr shed the stigma of his Van/Jethro character by nabbing a role on Australian TV series Tricky Business and new US drama Banshee, and former Go Girls star Jay Ryan scored the lead in Beauty and the Beast (screening here next year).
The Block NZ
The barrage of product placement on our big budget reality renovation show was awful. But Ginny and Rhys' constant bickering, Tyson and Rachel's bumbling DIY, and cheeky but slick host Mark Richardson made for a good show. At the live auction, sister and brother team Ben and Libby were easy winners making a $157,000 profit on their house.
Gangnam Style
The music phenomenon of the year, and not just because of the song but because of the dancing it inspired. Psy's chicken dance cum do-si-do meets hip-hop moves might look naff, but, if you haven't already tried doing it, then it's actually quite fun and there's a real art to nailing it. Best you get practising then.
Taylor Swift
The perennial over-achiever, Miss Swift proved she's still the Queen Bee of pop music in 2012. Not only did she sell out three nights at Vector Arena with a show that little girls' dreams are made of during her 111 world tour, but she was the voice of Audrey in The Lorax, released her best album yet, Red, and began dating One Direction's Harry Styles.
NZ's Got Talent
One of the most popular shows of the year, with almost one million viewers tuning in each week, was won by talented teen Clara van Wel whose poignant originals stood out early on. But as well as weeding out some talented musicians, it was also about kooky acts like jugglers Zane and Degge, lovely 91-year-old Christchurch singer Olivia Turner, and freak show offerings courtesy of blokes like one-man orchestra Bill Rimmer.
Taylor Kitsch
Poor Taylor. The unluckiest man in Hollywood who was much hyped at the beginning of the year but ended up being in not just one, but three of the year's biggest turkeys, namely Battleship, John Carter, and Oliver Stone's Savages.
The Hobbit backlash
The first film in the trilogy has had one of the biggest box office openings of the year but the troubles Peter Jackson's The Hobbit attracted during its protracted production didn't stop with its grand unveiling. The jury is still out on the merits of the 48 frames per second 3D version, while the reviews have run the gamut from gushing praise to scathing vitriol.
Flight of the Conchords
Not only was there a frenzy when tickets for their NZ tour went on sale, but they ended up playing to more than 65,000 people around the country. Then their charity single Feel Inside turned out to be the highest-selling local single of the year, and Bret won a Grammy.
Golden anniversaries
We've celebrated several 50th birthdays this year. There was 50 years of James Bond, and then it was the turn of the Rolling Stones to celebrate 50 years of rock 'n' roll mayhem. We also celebrated 50 years of Coronation Street here (we're two years behind).
Boy bands
Argh. They're back. And you can blame One Direction - who are magnets for screaming teenage girls everywhere they go - for the string of boy bands that have emerged recently including New Zealand's very own Titanium and X Factor USA's Emblem3.
Lena Dunham
It's been a big year for Lena Dunham. The writer/actor/director went from being a relatively unknown talent, to one of the hottest names in New York, after her HBO series, Girls became a hit. It earned her four Emmy nominations and a Golden Globe nod, plus the kind of kudos that led to her making ironic clips for the Obama campaign, writing for the New Yorker and being offered $3.7 million for a book deal.
- TimeOut