Much loved local show Go Girls will screen its fifth series next year, but there's a twist - though it will still be set on the North Shore, there will be a whole new cast of characters muddling their way through finding jobs, places to live, relationships and family. With Amy, Britta, Cody, Brad and Kevin all getting married, having kids, buying houses and living happily ever after, it was decided (as hinted at in the final episode of season four) that a new quintet, led by Britta's younger sister Candy, should become the centre of the show in a new round of personal quests. TimeOut reveals the newcomers below.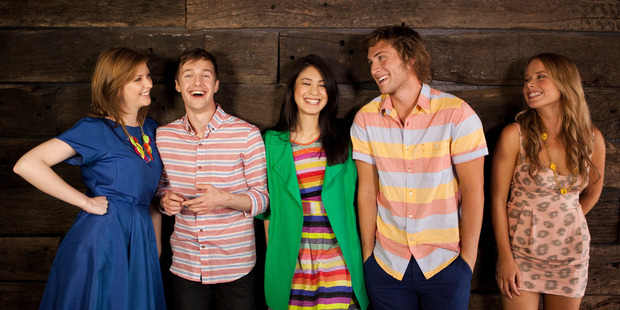 Name: Tai Berdinner-Blades
Character: Bennie Keegan (younger sister of Ted)
Background: Blades trained at Toi Whakaari drama school, and featured in award-winning local online series Reservoir Hill, as well as the play Blood Wedding, directed by Willem Wassenaar.
On being cast in GG: "It was very jubilant; I did a lot of jumping up and down. I was at drama school when I found out, we were in the middle of our industry day and my agent happened to be there and he got a text saying that I got the role. All my classmates were there which was awesome, so we did a lot of jumping around screaming."
Name: George Mason
Character: Ted Keegan (older brother of Bennie)
Background: Mason trained at Toi Whakaari, and has appeared in Shortland Street, upcoming series The Blue Rose, and 3 Mile Limit directed by Craig Newland.
On being cast in GG: "I was really stoked, and relieved.
It had been a pretty full-on audition process. And it's also just great to have four or five months' work!"
Name: Shara Connolly
Character: Candy McMann (sister of Britta McMann, from previous series)
Background: Connolly has a Bachelor of Arts, and has previously appeared in Shortland Street, Outrageous Fortune, feature film Hugh and Heke and the previous series of Go Girls.
On being cast in GG: "It's a little bit daunting because we have some big shoes to fill. But I'm really excited."
Name: Leon Wadham
Character: Levi Hirsh
Background: Wadham trained at Toi Whakaari, and appeared in local film Under the Mountain in 2008, and in 2012 play Tribes, directed by Shane Bosher.
On being cast in GG: "It's been wonderful. I'm really enjoying working with this cast and the rest of the team, it's such a fun group."
Name: JJ Fong
Character: Alice Lee
Background: Fong has a Diploma in Commercial Dance and Musical Theatre, and appeared in the Court Theatre's Man in a Suitcase (which also toured Beijing), Miss Saigon at the Civic, and The Secret of Dongting Lake directed by Ben Crowder.
On being cast in GG: "I was screaming down the phone at my agent because she kind of tricked me! She said, 'I have bad news', and then she said 'you got it!' I was over the moon."
- TimeOut