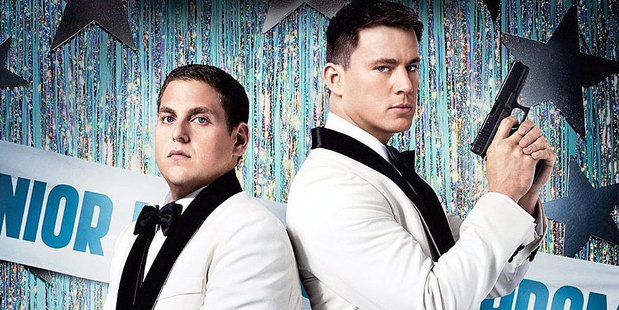 The 12 biggest moments in film in 2012:
ALL YOU COULD DO WAS MARVEL
Written and directed by Joss Whedon, The Avengers was released in April and became the third-highest grossing movie in Australian history, making $53.3 million. It was the year of the comic book heroes, with Christopher Nolan's The Dark Knight Rises also hitting cinemas, along with The Amazing Spider-Man and Dredd 3D.
THE END OF AN ERA...
Regardless of whether they were Team Edward or Team Jacob, Twilight fans, or Twi-hards, lined up to see the fifth and final installment based on Stephenie Meyer's vampire series, The Twilight Saga: Breaking Dawn - Part 2. While that door closed this year, another opened when The Hunger Games, based on Suzanne Collins' bestselling young adult novels, hit cinemas in March. It's the first of four planned movies.
RETURN TO MIDDLE EARTH
On December 14, The Lord of the Rings director Peter Jackson makes a highly anticipated return to JRR Tolkien's world with the first of three prequels based on the book The Hobbit. Titled The Hobbit: An Unexpected Journey, the film was a labour of love, encountering numerous setbacks that included union disputes, a fire, Jackson getting surgery, and the original director Guillermo del Toro dropping out due to delays. The film will be the first major Hollywood movie to be made at 48 frames per second (the standard is 24fps).
TWEENS SCREAM THEMSELVES HOARSE
It wouldn't be a surprise if cough lozenge companies increased their profits in Australia this year, as excited tweens screamed and cried themselves into a frenzy over visits from Josh Hutcherson (The Hunger Games), Zac Efron (The Lucky One), Robert Pattinson (The Twilight Saga), Katy Perry (Katy Perry: Part of Me) and Rihanna (Battleship), as well as Chris Hemsworth (Snow White and the Huntsman) and his co-star Kristen Stewart, pre-cheating scandal.
WAS THAT REALLY NECESSARY?
Unnecessary sequels, reboots and cash-grabs littered the cinema scape during the year. The Amazing Spider-Man was well-executed and sizzled from Emma Stone and Andrew Garfield's chemistry even though you got deja vu, while Battleship and MIB3 made for enjoyable pulp. However, American Pie: Reunion was pointless and Kath and Kimderella years too late. However, the reboot of 21 Jump Street on the other hand, made for one of the funniest films this year.
STAR WARS: EPISODE...?
On October 30, Disney paid US$4.05 billion (A$3.94 billion) to buy Lucasfilm Ltd from George Lucas and with it, the rights to franchises like Star Wars and Indiana Jones. Mickey Mouse's company immediately announced a seventh Star Wars film, Episode VII, would be made, set for a 2015 release, with plans to follow with Episode VIII, IX and more. Rumours have circulated claiming Harrison Ford, Mark Hamill and Carrie Fisher, who starred in the first three movies, are open to returning to the franchise, but won't commit until a director and script are confirmed.
BOND, JAMES BOND
This year marked the 50th anniversary for the film franchise based on Ian Fleming's British spy novel. To coincide with the anniversary was the release of Skyfall, the 23rd Bond film, starring Daniel Craig, Dame Judi Dench and Javier Bardem. Critics largely supported the new film, with some even naming it the best Bond ever. It also saw Craig visiting Australia to promote the 007 movie along with co-stars and new Bond girls Berenice Marlohe and Naomie Harris.
LUHRMANN WORKS HIS MAGIC
The Great Gatsby was slated to finish shooting in Sydney in late December last year, but stars Leonardo DiCaprio, Tobey Maguire and Carey Mulligan were back filming final scenes for Baz Luhrmann's adaptation in February. Filming ended early when Luhrmann bumped his head on a crane in December, splitting it open and requiring three stitches. While it was originally set for a January 10 release in Australia, The Great Gatsby has since been moved to May 30, meaning its May 10 release in the US will be in their summer blockbuster season, although there is speculation the timing could hurt its Oscar chances.
WHERE THE HELL ARE YA?
The Great Gatsby wasn't the only film shot in Australia this year. The X-Men Origins: Wolverine follow-up, imaginatively titled The Wolverine, brought star Hugh Jackman to Sydney to reprise the role that originally made him a star in the X-Men trilogy.
AUSSIE MOVIE SPARKLES
After debuting at Cannes Film Festival to a 10-minute standing ovation, feel-good Aussie musical The Sapphires, starring Jessica Mauboy, Deborah Mailman, Miranda Tapsell and Shari Sebbens, went on to earn more than $14 million at the Australian box office. Directed by Wayne Blair and based on the play of the same name, it was also bought by film studio The Weinstein Company, who are specialists in nabbing Oscar-noms - meaning The Sapphires could still be making waves in the US next year.
HEMSWORTH BROTHERS
Brothers Chris and Liam Hemsworth took Hollywood by storm this year, with Chris starring in one of the year's biggest blockbusters - The Avengers - and his little brother Liam in another huge hit, playing the romantic lead Gale in The Hunger Games. This year, Chris also appeared in Snow White and the Huntsman and The Cabin in the Woods, which was co-written and produced by his Avengers director Joss Whedon. Liam was also seen alongside Sly Stallone in the tongue-in-cheek action/comedy The Expendables 2.
DOING THE CIRCUITS
Australia was well represented at the major film festivals this year. Kieran Darcy-Smith's exceptional thriller Wish You Were Here, starring Joel Edgerton, was selected as an opening night premiere at Sundance Film Festival in January, while musical The Sapphires got buzz at Cannes Film Festival after its 10 minute standing ovation. Pop singer Kylie Minogue also made waves at Cannes in Holy Motors, while Nicole Kidman was seen in another official competition entry The Paperboy. Meanwhile Cate Shortland's Somersault follow-up Lore has been winning awards across Europe, including at Stockholm Film Festival and Switzerland's Locaro Film Festival.
- AAP