Aussie star Jackman sheds 14kg to play Jean Valjean in the big screen version of classic musical.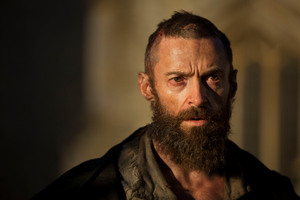 The world is used to seeing Hugh Jackman as the perfect physical specimen, whether it is the muscular and dangerous Wolverine, commanding the stage in a Broadway production or laughing and smiling with his wife and kids in paparazzi shots.
In the opening scenes of his new film adaptation of the stage musical Les Miserables with the actor playing the lead, French convict Jean Valjean, audiences see a different Jackman.
Jackman has shed 14kg. His face is gaunt, wrinkled and pained while his normally perfect hair is crudely shaved off, revealing gashes on a battered skull that make it look like a victim of a vicious street mugging.
"Tom Hooper said to me at the beginning 'I don't want people to recognise you. I want people to think you are sick'," Jackman said.
Hooper is the Oscar-winning director of The King's Speech.
If early Oscar buzz is to be believed, Hooper, with cast members Jackman, Anne Hathaway and Russell Crowe, who plays ruthless policeman Javert, could end up with nominations at the coming Academy Awards.
The physical transformation Jackman and Hathaway undertook is something that Oscar voters traditionally reward with statuettes.
Valjean served 19 years on a brutal prison chain gang for stealing bread to feed his family and Hooper wanted Jackman to display the physical and mental trauma the character endured.
The story, as the more than 60 million people who have watched Les Miserables stage productions worldwide since its premiere 28 years ago know, follows Valjean as he is released from prison and gradually turns his life around, becoming a successful factory owner and mayor of a French town.
Jackman said shooting the film over 12 weeks allowed him to add weight as his character transformed from a bedraggled prisoner to a businessman.
In the early scenes, Valjean, after his release from prison, is forced to walk from Toulon to Digne, including trekking along the top of a French mountain range.
As well as looking the haggard part, Hooper demanded all cast sing live, rather than go into a studio before or after filming, to lay the song, so during Valjean's mountain walk, the voice audiences hear is Jackman actually singing on the mountain.
The temperature was below zero, the wind was as strong as it was icy and to add to the physical duress Jackman knew Valjean would be suffering, he decided not to drink water for 36 hours before the scene was shot.
Let's just say Jackman doesn't look like Julie Andrews dancing and singing on a lush mountain in The Sound of Music.
"Yes it was, the polar opposite of Julie Andrews," Jackman laughs.
"Although, there is an outtake of me doing a Julie Andrews, funny you should mention it."
Maybe we'll see it on the DVD?
"I doubt it," he says firmly. "Nobody wants to see Jean Valjean doing that."
Movie preview
Who: Hugh Jackman
What: Les Miserables
When: Opens January 10
-AAP