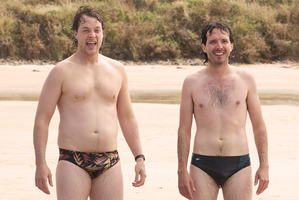 Wellington might have been hosting a glittering movie event yesterday, but next Tuesday it's Auckland's turn to focus on the local film industry with the inaugural Sorta Unofficial New Zealand Film Awards, which have been given the affectionate nickname The Moas.
For a while it didn't look like there would be a local film awards ceremony this year, with New Zealand movie makers left out in the cold after the national telly awards dropped film categories from their annual prize-giving. But it turns out they're still getting an annual gong-fest to call their own, thanks to the organisational skills of Hugh Sundae of nzherald.co.nz and local film guru Ant Timpson.
Presented by the New Zealand Herald and Rialto Channel, The Moas will be held at The Wintergarden at The Civic on Tuesday night, and will celebrate the past year's Kiwi flicks great and small, with categories for fully fledged features, cinema-aimed documentaries, self-funded features and short films, and a judging panel made up of not only local industry members but a wide array of important eyes from international film festivals and companies.
The Orator and Two Little Boys lead with 11 nominations each, but there are many impressive cinematic projects getting recognition, and you can join all the fun by watching a live stream of the event, including all the awkward and amusing acceptance speeches at nzherald.co.nz/themoas.
- TimeOut