Casting his actor mother as a femme fatale in his debut film was a risk on both sides that paid off for half-Kiwi director Barnaby Southcombe, writes Peter Calder.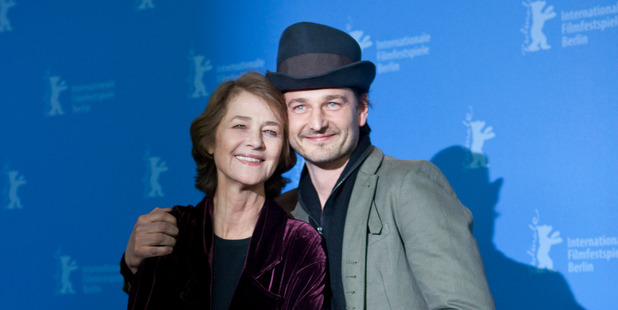 You might have expected Barnaby Southcombe to know the time difference between London and Auckland. The 40-year-old London-based film-maker's father Bryan, was born and bred in Nelson and, after a quarter-century in France and Britain, retired here; he died in Freemans Bay in 2007.
"I actually have more family in New Zealand than in England," Southcombe says, panting slightly after running to where he can take my call, 10 minutes late, after he got the time wrong. "I used to come there often when I was growing up, every couple of Christmases."
But it's his other parent who is the subject of our conversation: Charlotte Rampling stars in the title role of I, Anna, Southcombe's feature debut after a decade of TV, including episodes of Teachers, Bad Girls and Footballers' Wives.
Her character, Anna Welles, is a woman whose apparent involvement in a murder case intrigues a detective, played by Gabriel Byrne. But as he finds out more about her, he is seized by a potentially fatal attraction and she emerges as an enigmatic and deeply troubled figure.
It's an emotionally charged performance that touches on some disturbing material. And, I suggest to him, casting her must have been at least potentially fraught.
"I had always imagined my mother in the part," he says. "I sort of took it as read that it was the right part at the right time of her life.
"Yes, it meant dealing with personal stuff between us. But in a sense the film provided enough distance to maybe explore things at an element of remove. It provided a heightened environment which helped us through what was ultimately a very personal emotional journey."
Rampling, now 66, whose credits go back to Richard Lester's anarchic and provocative The Knack ... and How to Get It in 1965, made her name in Liliana Cavani's 1974 masterpiece The Night Porter as a concentration camp survivor in the late 50s, renewing a sadomasochistic relationship with a former guard. In latter years, however, and particularly in the films of Frenchman Francois Ozon, she has made something of a specialty of playing troubled souls. She's made no secret of the fact that she has been dogged by depressive illness, and it seems to make her ideal for the part of Anna.
"I would say that's pretty fair. It's risky, but she's a risky actress. A lot of actors of a certain age have fallen into a comfort zone where they do their work and get their pay cheque, whereas she is still dealing with bizarre and fascinating and sometimes very odd scenarios."
The film might never have happened if Southcombe had not come up with a sudden piece of lateral thinking. Four days before shooting was due to start, Rampling arrived at the production office "looking rather sheepish", the director recalls.
"I could see there was something wrong and I asked her what it was and she peeled up her sleeve and showed me this plaster cast going up to her elbow. She'd slipped on some water that had leaked from the refrigerator in her apartment in Paris and taken the full weight on her wrist."
It was impossible to delay the shoot for the six weeks the wrist would need to repair, but Southcombe hit on the idea not just of letting Anna have a plaster cast but making it the source of a constant itch.
"I was almost sorry that I hadn't come up with the idea myself," he says. "It felt like such a strong metaphor and a very filmic one: everything is itching and bursting to come out."
The movie, whose style is a cool modern noir, is set in a noticeably depopulated London, through which its characters move, isolated in their own worlds. It was a hard effect to achieve, Southcombe says - "If I could have shot it entirely devoid of anyone I would have been delighted, but I had to be very selective in my angles and timing.
"But the look was carefully contrived. London is an overwhelmingly large place, a hostile and alienating place full of people. What I was trying to communicate was the idea that in a city of nine million people, it is harder to meet or connect with a person who is right for you."
- TimeOut