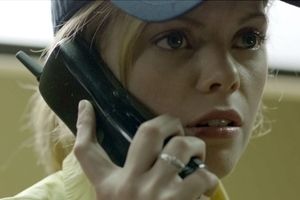 Creepier than any film has a right to be, this American indie chiller has a complete answer to any charge of being manipulative or prurient: the events it depicts really took place.
In fact, a close reading of what actually happened on April 9, 2004 in a McDonald's in Mt Washington, Kentucky, suggests that writer-director Zobel has exercised virtually no creative licence, which is what gives the film a visceral punch.
If you think what follows contains a spoiler, don't worry: you tumble to what's happening early on and the steadily growing horror derives in large part from the fact that every time you say to yourself "he can't do that", the answer is "he did, actually".
Not a film for the faint of heart - study the censor's rating and consider yourself warned - it takes place almost completely in real time in an understaffed, slightly chaotic branch of a fast-food franchise called ChickWich.
An opening sequence of snappy precision - which gives us a brief spoiler of its own - introduces us to the manager, Sandra, who is just keeping things together and trying to ignore the sneering contempt of her teen workforce.
Sandra (Dowd's solid, dogged performance is the film's anchor) takes a call from a man who says he's a cop investigating a complaint of theft against one of her junior employees, Becky (Walker).
To the onlooker, something smells fishy from the beginning but, as the title suggests, the film is concerned to explore the well-documented human proclivity for setting aside moral scruples or even basic decency when presented with what appears to be legitimate authority.
The cultural references are legion, of course, from Hitler's Germany to the famed Milgram experiments in the 1960s in which 70 per cent of respondents cheerfully administered what they falsely believed to be lethal electric shocks to subjects for no other reason than that they had been told to.
It does no one any favours to describe the depths to which "Officer Daniels" (Healy) drives Sandra, another employee and Sandra's fiance, but it's fair to say that the film is both difficult to watch and impossible to tear your eyes away from.
Zobel and his cinematographer Adam Stone almost never shoot wider than medium close-up, keeping in tight and clammy, which accentuates the clumsiness of the inelegantly paced last few minutes.
For my money, they show stuff that could and should have been explained by the end credits and they break the spell woven in the previous 80 minutes.
But they do force us to contemplate the riddle at the heart of the story: if someone persuades you, by charm and without duress, to willingly perform unspeakable acts, to whom should the guilt attach?
It's enough to say that no one was arrested after the Kentucky incident.
Stars: 4/5
Cast: Ann Dowd, Dreama Walker, Pat Healy, Bill Camp, Philip Ettinger
Director: Craig Zobel
Running time: 90 mins
Rating: R16 (offensive language, sexual themes and content that may disturb)
Verdict: It's hard to watch and impossible not to.
- TimeOut