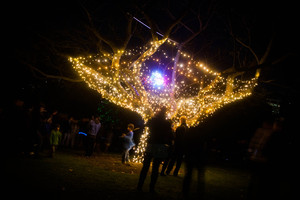 Western Park last Saturday evening smelled wonderfully of pennyroyal, as about 40,000 avid art lovers tramped through Art in the Dark. This delightful event, which came out of nowhere three years ago, turns art viewing into an adventure sport in the otherwise-under-used park. Slaloming up and down the slopes, visitors discovered dozens of surprises - a giant spider in a web, cellphones in a tree cube, a walkway in a cordon of light, for example - and regularly lost their fellow orienteers along the exciting, twisting paths.
Interaction was the name of the game, from Marcel Allen and Renee Warner's Plant the Seed at the top of the hill, where you could grow a virtual plant by playing with actual dirt, to Future Hotel's The Magnificent Western Park Open at the bottom, where you could play tennis with balls of coloured light.
Kids furiously pummelled air bed pumps attached to an inflatable sculpture of a lobster hugging a column topped by a halo of bluish spikes, entitled Fountain of Eternal by Melissa Durbin.
"What happens if everyone stops?" someone asked. "The plant dies," came the answer. Everyone stopped, and the spikes drooped.
Not only is Art in the Dark free, but nothing is for sale - no coffee, no glowsticks - helping to make it free of queues and whiny children. It's well-organised by Celia Harrison (the inaugural event was her spatial design Honours project at AUT) and Ella Mizrahi, still only in their mid-20s. It's already close to being an overcrowded victim of its own success (like another lights-in-parks fandango, the Lantern Festival) but it could be stretched over more nights.
Yet for all this amazingness, its future funding is not assured. It should be. The Auckland Council's tourism arm should be encouraging it - and its eco-friendly, grassroots charm - to the hilt.
Also proving Auckland's outdoorsy culture and natural beauty can enhance rather than distract from high kulcha is the enormous NZ Sculpture Onshore exhibition. Until tomorrow, Fort Takapuna in Devonport hosts 119 sculptures overlooking Rangitoto. Take a picnic and visit it slowly.
This year is the year of the menagerie - including animals by two artists curator Rob Garrett was pleased to recently discover: an impressive driftwood elephant by Jack Marsden Mayer and a bull made out of car parts by Marti Wong.
Creating meta-narratives out of survey shows is more fun than meaningful, but I couldn't resist: the exhibition can be read as questioning assumptions of happy biological "progress". A handful of humanoid forms wobbling on top of pedestals and ladders contrast with many beautiful animals on the ground, while Bernie Harfleet's 14 coffins, representing the 14 women on average killed in New Zealand by family members every year, suggests just how "civilised" we really are. Brendan McGorry's temple to evolution, made visceral with axolotls, sports scribblings of order and chaos. Would we know if we were regressing? Tickets are $15 for adults, and $30 for a family; proceeds go to Women's Refuge.