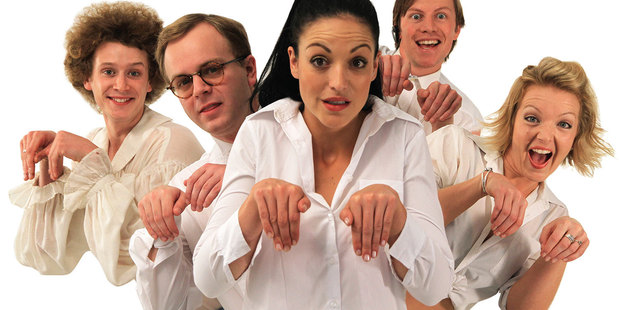 You think your Christmas is hard? Try sharing it with Aryan - possibly alien - twins, a pottery-making lesbian life-partner, a brain-damaged supermodel, a perpetually unloved stoner son and a needy neighbour.
So goes The Outfit Theatre Company's description of its end-of-year farce, An Awkward Family Christmas, written by Tom Sainsbury. The cast, made up of Outfit regulars, also includes Chris Tempest, who's taking some time away from Shortland Street to perform with his old friends.
Producer Ema Barton doesn't think it's too much silly for the season, saying it's all part of the company's willingness to push the boundaries. "Our sense of humour meets Tom Sainsbury's writing. We've always had quite a dark sense of humour, but it's definitely a black comedy where we stick to the farce genre with lots of crazy goings-on. I think Tom is a writer who is not afraid to go where other people won't and that works for us."
Fans of The Outfit's fast-paced ensemble works may want to get along regardless, because it could be a few months before they see the company again.
Barton says they want to take a break to consolidate gains they've made, particularly during the last 18 months, and determine a more definite direction and administrative structure.
"We can't take the step back that we need to in order to get to the next level when we're constantly rehearsing and going into production for the next show."
But she promises they'll be back in the second half of next year.
Meanwhile, change is afoot at The Basement, as detailed in last week's arts section by columnist Janet McAllister. The venue is introducing a "risk-sharing" model, which will help new and small companies develop, experiment and generally get themselves established.
It's also fundraising to transform its foyer into a gallery space for emerging visual artists. In Basement tradition, that means a Christmas show with proceeds going toward the renovations. This year, Nic Sampson and Barnaby Fredrick (who wrote the award-winning Short'n'Sweet show Bombs Away) are penning the script described as a Christmas pantomime not for the whole family.
MegaChristmas downloads when Santa's elves and reindeer discover the jolly fat guy has gone missing right in the middle of their busiest time of year.
The race is on to follow a series of clues around the world to find Santa before it's too late.
Like past Basement Christmas productions, it features a revolving cast. So far, Mia Blake, Michael Hurst, Kimberley Crossman, Fern Sutherland, Beth Allen, Fasitua Amosa, Millen Baird, Nic Sampson, Jennifer Ward Lealand, Dave Fane, Bronwyn Bradley, Oliver Driver, Cameron Rhodes, Ash Jones, Yvette Parsons and Sam Bunkall have signed up to take part.
And Tim Bray Productions continues its festive season tradition of staging The Santa Claus Show at the PumpHouse.
Bray and his players have been delighting kids every year with the tale - written 20 years ago for his nieces - of a little girl with the longest Christmas wishlist Santa has ever seen, so he flies her to the North Pole so she can learn what Christmas really means.
This year the cast features Pipiajna Tui Jane as Kelly, Kayne Peters as Elfie and Jon Tamihere-Kemeys as Santa.
What: An Awkward Family Christmas
Where and when: Herald Theatre, November 20-December 1
What: MegaChristmas
Where and when: Basement Theatre, December 12-20
What: The Santa Claus Show
Where and when: PumpHouse Theatre, Takapuna, December 3-22