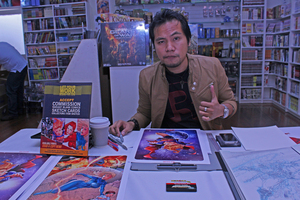 Maybe it's in the water. Maybe it's in the food, or in the grass. After a long time spent musing over the success of Filipino artists in the hard-to-crack comic book market, Harvey Tolibao finally settled on an answer.
It's in the history.
On a recent visit to New Zealand, the artist behind Green Arrow and other superheroes said he was interested in combining elements of artistic styles to deliver something that might stand the test of time.
"Asia is a place of art, especially China and Japan. For thousands of years, most of their items have been handcrafted. They've made history of it," he said while doodling sketches and signing autographs at the Heroes For Sale comic store in Auckland.
"This is a part of that. People are influenced to make history, to make art, and the people that grow up in our country follow what happened there.
"Through this art, people can say 'this is what happened'. We can say we did our part. I need to retain the Filipino style of artwork, though I kind of mix the manga style, Chinese, Korean. Everything is in there."
Tolibao said art was a way for people like him to stand out during those tough, formative years in school, where he wasn't much of a hit with the ladies.
He said he relished the opportunity to work on Marvel's Iron Man - specifically, the task of bringing the armour-clad hero Tony Stark's female acquaintances to life.
"I had been a tattoo designer after college, and a furniture designer at the same time. The head of a body-painting group in the Philippines [came to me and asked] I'm going to do designs for them.
"So it was the first time I'd seen nude ladies in front of me, and you're going to do something with them, but you don't know what to do. I designed everything first before I saw them naked. It was the best job in the world."
Since those awkward beginnings Tolibao has developed a reputation for drawing beautiful heroines, though he admits he still has some homework to do.
"Most of the guys see my work and ask 'do they have silicone, or real ones?' and I need to study the real anatomy of how it moves so it can look normal," he said.
"I met a lot of guys in the industry, like Carlo Pagulayan, Lienil Yu, and Stephen Segovia. These guys share a lot of techniques on everything, so making beautiful girls instead of just Ghost Rider and Iron Man is going to be my strong point."
Tolibao spoke of his colleagues in glowing terms, and his association with them stemmed from his own fandom. He said he "stalked" his compatriot, former Wolverine artist Yu, at conventions similar to Armageddon, which was held in Auckland over Labour Weekend.
"When I saw him [Yu] the first time, I'd been standing for five hours in front of him, just watching him. I was very amazed, like 'is this for real? You're a Filipino!'
"My dream come true was being a background artist for him on New Avengers issue 20. He wanted me to stay at his house, so now the stalker's staying at the house."
Tolibao learned "everything" from Yu, and from there the work offers began to flow.
"Dark Horse offered me Star Wars and Marvel offered me Iron Man at the same time," he said. "Being a fan and turning into a comic book artist was like punching to the moon."
Pagulayan, another Filipino artist, has been a huge influence on Tolibao's career.
"He's like a god pretending to be human just to draw a comic book," he said.
"This guy taught me how the market goes, and how to draw comics. His work's kind of simple. It's like, 'are you really a comic book artist? How come Marvel gave you Elektra and Emma Frost?', but he's good in the way of telling the story."
Tolibao said comics stand apart from any other form of storytelling, and noted that unlike in the days of his youth, the majority of youngsters preferred to play video games.
"Games are very powerful, it's the real world for them. I do my part to inspire the kids that are into comics."
Tolibao said he enjoyed Armageddon, and that meeting comic fans was an inspirational experience.
"It helps the dreams of the fans - and I'm a fan myself - that they can meet the guy who draws Green Arrow," he said. "That's what makes it beautiful."