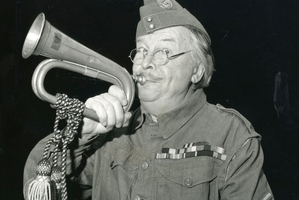 The ranks of Walmington-on-Seas Home Guard platoon have been further depleted by the loss of another old warrior with the death of Clive Dunn.
The Dad's Army star died this week at his home in Portugal, where he had lived for 20 years, from complications stemming from an operation.
His agent, Peter Charlesworth, said he would be a real loss to the acting profession.
The 92-year-old Dunn, who specialised in playing elderly men even at the beginning of his long and varied career, was best known as Corporal Jack Jones - a bumbling Boer War and World War I veteran whose recollections of long-ago skirmishes with fearsome fuzzy wuzzies were guaranteed to incur the ire of his commanding officer, Captain Mainwaring.
Although Dunn played one of the oldest characters in the classic sitcom, originally broadcast between 1968 and 1977, he outlived nearly all of his co-stars, who included Arthur Lowe and John Le Mesurier.
Such was the popularity of Jonesey the ageing butcher that his catchphrase "Don't panic!" normally accompanied by him jumping up and down and pointing his rifle in a state of extreme agitation, has passed into the national lexicon.
Dunn, who was also a successful stage singer, secured one of Britain's biggest novelty pop hits with Grandad.
It gave him a No 1 hit in 1971 and spawned a successful children's comedy series.
The actor's fledgling film career was interrupted by military service in World War II, when he served with the 4th Queen's Own Hussars, spending four years in prisoner-of-war and labour camps in Austria. He once described his Dad's Army success as payback for his time incarcerated.
Returning to civilian life, Dunn employed his comic talents alongside Tony Hancock before securing the role with which he would forever be associated.
Although they combined an extraordinary chemistry on screen, Dunn and Lowe, who played Mainwaring, regularly argued about politics. Dunn was a lifelong socialist, while his fictional superior officer was a staunch supporter of the Conservative Party.
- Independent