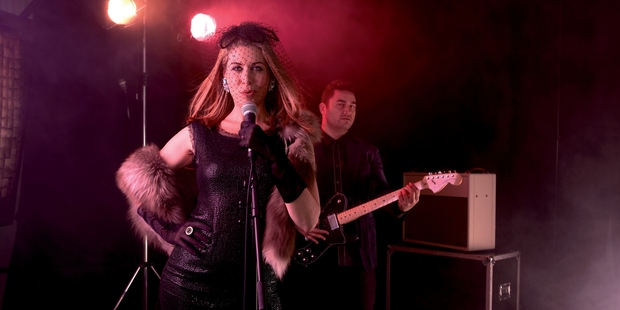 Given that the American musical revue Jacques Brel is Alive and Well and Living in Paris was one of the most successful productions in the history of Silo Theatre, the company might have thought about reviving it.
It has been seven years since Silo ended a hugely successful 2005 season with the cabaret-style show featuring songs by the Belgian singer, songwriter and actor. Widely regarded as one of the godfathers of modern music, Brel's songs - he wrote around 300 in his brief lifetime - have been covered by an extensive list of musicians including Leonard Cohen, David Bowie, Frank Sinatra, Nina Simone and Marianne Faithfull.
The passionate, sardonic wit of his songs may suit those luminaries, but it's harder to imagine how they worked for the likes of Sheena Easton, Olivia Newton-John and Nana Mouskouri who have also recorded versions. Then again, it proves how mutable his work is. And therein lies the point. When Silo decided to return to Brel, artistic director Shane Bosher opted for a whole new challenge: creating a cabaret-noir tribute show from scratch to reinterpret songs written mainly in the 1940s, 50s and 60s for a contemporary audience.
The result is Brel, a genre-defying production described by director Michael Hurst as a cross between a concert and a recording session combining the talents of a disparate range of performers. Two of our most high-profile rock musicians, Jon Toogood and Julia Deans, join two of our most celebrated musical theatre performers, Tama Waipara and Jennifer Ward-Lealand, along with Balkan-influenced musical trendsetter Dr Colossus.
The job of rearranging the songs has fallen to Dr Colossus founder Leon Radojkovic who is working closely with Hurst. Hurst, who appeared in a 1981 version of Jacques Brel is Alive and Well and Living in Paris, says they are moving away from the accordion and more toward electric guitars.
If the production is modern, so is the process of bringing it all together. Back in 1981, there was no internet - Hurst says he didn't even have a picture of Brel to look at - or any way to listen to the vast number of songs Brel wrote before his death in 1978, aged 49, from lung cancer. This time, Hurst has been able to access a range of material and listen to a dizzying number of versions of the songs; not to mention communicating remotely with Radojkovic who has been working in Frankfurt.
"I've tried not to look at people performing; rather to just listen and get an idea of the songs. With the people I've got in front of me, there's no need to be influenced by what anyone else has done. They bring all that we need to do our own thing."
For Hurst, who has directed and starred in countless theatre, opera and television productions, it has meant doing things a bit differently. Rather than starting by working out the staging and the actors' moves, he has been pouring his heart into getting the music just right and helping the performers create the type of characters you might find in a dim bar in New York, Berlin or Paris.
He says working with rock musicians Toogood and Deans isn't too different from directing actors. When he talks about diction and theatricality, they know what he means. Ward-Lealand, who directed Jacques Brel is Alive and Well and Living in Paris, says ultimately everyone is working toward the same goal. "In the end, it's all the same because everyone wants to get it right and do the best by the songs."
Performance
What: Brel
Where and when: Auckland Town Hall Concert Chamber; November 1-24