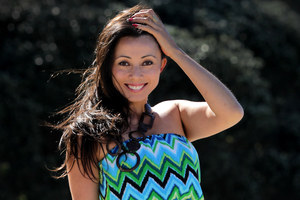 An actress who captivated cinema audiences as the lethal and exotic martial arts expert who tried to kill James Bond has dedicated herself to the old saying "charity begins at home".
Rachel Grant, who played an assassin in the Bond movie Die Another Day, visited Tauranga this week to help promote an inspirational diary published by a Wellingtonian with strong links to her mother's homeland, the Philippines. She met the publisher of the diary, Wheldon Curzon-Hobson, when he was visiting the Philippines gathering material for his e-book Inspired by Manila about the charities helping to alleviate poverty - including some supported by Grant.
When she heard about his latest project, a diary called Making a Difference in which each week features an inspirational story and photo, she decided to help out, contributing 12 stories to the diary and coming to New Zealand to help promote it.
She recalls the audition for Die Another Day, directed by Kiwi Lee Tamahori, when her real-life martial arts skills so impressed Bond actor Pierce Brosnan that he insisted she be cast as the assassin.
Her favourite Bond actor was Roger Moore, because he was so suave and cool.