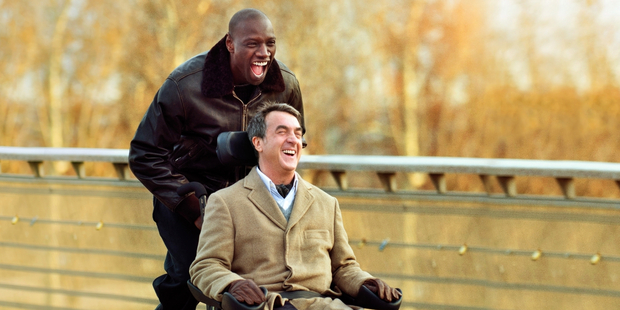 It's easy to find fault with this feelgood French buddy comedy-drama, which outperformed Avatar (though not Dany Boon's Welcome to the Sticks) in its native country.
The Intouchables - it maintains the French spelling to distinguish it from those Prohibition-era dramas - sentimentalises and condescends to one of its two main characters; gets cheap laughs with homophobic asides; simultaneously venerates and sneers at "high" culture like opera; and has the most mawkishly manipulative score in recent memory.
Yet despite - or more probably, because of - these things, it is sure to be a hit because its breezy self-confidence makes it perfect escapist entertainment. And I would be lying if I said I didn't enjoy almost every minute of it.
Cluzet plays Philippe, a mega-rich Parisian paralysed from the neck down after a hang-gliding accident. He's interviewing for a new personal assistant when Driss (Sy) turns up, not to apply, but to get a signature on a form so he can keep getting the dole.
Philippe, to the consternation of his uptight secretary, employs Driss, for the rather sensible reason that he does not ooze the nauseating earnestness of the other applicants.
If you think you know where this is going - street-smart black ex-con teaches embittered aristocrat how to live again and learns something himself in the process - you would be right, and there's something very calculated and formulaic about the way it's assembled.
The film's real-life back story was about an Algerian; France's relationship with its former colony is specifically and deeply problematic and a film with an Arab would have been more nuanced and interesting.
But as a black man, Driss is part of something more straightforward, digestible and exportable (an American remake, reportedly with Colin Firth in the Cluzet role, is in the works).
So it's an understatement to say that the characters are stereotypes, but the big, bold framing, the expert pacing and the vigour of the two central performances keep it aloft.
A hilarious pre-title sequence involving a speeding car and a smart sting sets matters off on the right foot and there are some touches (the terrible intimacy of the "baby phone" that allows Driss to monitor his charge at night is one) that are genuinely poignant.
Go with modest expectations and you'll find much to enjoy.
Stars: 3.5/5
Cast: Francois Cluzet, Omar Sy
Directors: Eric Toledano, Olivier Nakache
Running time: 112 mins
Rating: M (drug use, offensive language) In French with English subtitles
Verdict: Stereotypes and cliches were never this much fun.
-TimeOut