Cougar Town star Josh Hopkins talks to Lydia Jenkin about life on the sitcom.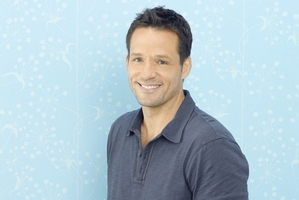 Fast-paced, oddball humour and gratuitous wine drinking may be Cougar Town's signature style, but over the course of three seasons, the crazy characters living in a Florida cul-de-sac have managed to endear themselves to audiences.
Case in point, Josh Hopkins' character Grayson Ellis has gone from being the annoying neighbour making fun of Jules (played by Courteney Cox), to being her cheeky fiancee, and in series three audiences have been waiting to see whether or not they'll make it down the aisle.
"Grayson has probably come the furthest of any of the characters, as far as character arc goes," Hopkins explains.
"He definitely started the first season as a very cynical, hurt, closed-off guy, not really wanting any sort of relationship or human contact. And then Jules and the cul-de-sac crew, they sort of rescued him from his dismal life, and he falls in love."
That doesn't mean the road to marriage is a smooth one - the issue of kids is one that's been ongoing for the pair, and the show's writers haven't let that slide.
"Grayson really wants kids, and Jules thinks she's pretty much done having kids, and then one of Grayson's old one-night stands turns up with a daughter."
It doesn't get too bogged down in serious issues though, and there's plenty more wackiness, including Grayson's musical interludes.
"Those inane songs that tend to stick in our heads long after we're done singing them on the show? Yep we continue with that" he laughs.
Hopkins is a keen musician so he writes most of the songs.
"It's a great outlet for me, to not just act, but have a little bit of writing and music mixed in."
Just don't ask him to sing in front of anyone famous - one of the hardest things he's had to do on Cougar Town is perform a duet with Sheryl Crowe. "I can barely play and don't sing well ... It was one of the best moments of my life, but one of the most absolutely terrifying moments of my life."
Grayson's not far removed from himself. "I don't think I've ever been as closed off as he was to start with, but I don't know that I'm as open as he is now, so there's a space in between that I fit in I guess. He's generally more cynical than I am I believe, but we're both quite independent, and tonally we're pretty similar."
TV profile
Who: Josh Hopkins
What: Cougar Town
Where and when: TV2, Wednesdays at 9pm.