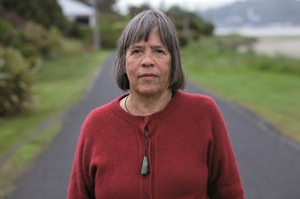 At 71, Gillian Whitehead is one of our most distinguished composers. Yet one is struck by the humility of the woman; "You don't have to mention that," she laughs, when I bring up the damehood conferred on her in the 2008 Queen's Birthday Honours.
Home is rural Harwood, a half-hour drive from central Dunedin, in a house once featured in a painting by Robin White. Last year, photographer Gareth Watkins searched the composer out, to catch her in one of the landscapes that has informed so much of her music.
"It was an overcast day with just the right light so we did most of the shooting outside," she explains. "I was standing in the middle of the road and people walked around me looking slightly askance. There's not much round here but the landscape."
Harwood has played its part in inspiring her new work, no stars not even clouds, that nestles among music by Haydn, Debussy and Shostakovich when the Enso String Quartet visits us Monday week.
"When I started writing no stars not even clouds, there was a particular rhythmic and melodic shape that I didn't realise was what the bellbirds had been singing outside all the time. The bellbird has got into an awful lot of my music," she laughs. "Often without my realising it."
The new piece is not all birdsong. When the viola breaks out with a mellow solo it's "just what I wanted to write," she smiles. "For an instrument that can lament rather well."
The cellist of the New York-based group is New Zealander, Richard Belcher. He has the last of a number of expressive solos, which allows him the sort of liberties not found in Haydn or Debussy.
Whitehead likes to give players "material that they can interpret more freely", a far cry from her highly structured scores of the 1960s and 70s. She dates her change of tactic to her struggles with cancer in the early 90s.
"I'd been filtering my music through complex, prefabricated structures," she explains. "Then, writing The Journey of Matuku Moana, I found myself stretching those structures and almost destroying them. I never went back."
Whitehead is naturally reticent, although her care and kindness towards fellow composers is legendary. However, when we talk of the Maori taonga puoro, played so evocatively by Horomona Horo in duet with flautist Luca Manghi in her Hineraukatauri on Manghi's new Atoll album Quays, you can feel a new enthusiasm.
"The issue of being a Maori composer has been far more important to me than being a woman composer," she says. "Everyone was going on about women composers and I couldn't quite see why it was an issue. The pull of the other was so much more important."
Whitehead's Maori-influenced music can be heard on the New Zealand String Quartet's 2008 album Puhake ki te rangi, with its fascinating accompanying DVD, as well as in her 1998 opera, Outrageous Fortune, in which Deborah Wai Kapohe's soul-searching lament almost achieves a fusion of waiata and Puccini.
For now, though, she is looking forward to hearing the new Enso commission when the quartet premieres it in Christchurch next week. "Until I've heard a piece played I don't know it," she confesses. "It's as if something in black and white becomes colour and three-dimensional. And then I need to hear it a second time to relearn it in sound."
What: Enso String Quartet
Where and when: Auckland Town Hall, October 29 at 8pm