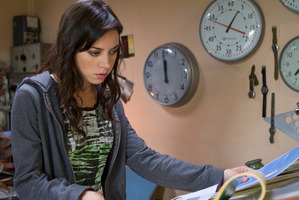 From the producers of Little Miss Sunshine comes another original and quirky indie that's not afraid to be different.
An unusual blend of dry and cynical romantic comedy and low-budget DIY sci-fi, it's not an obvious combination of genres.
Somehow it works, creating an endearing story about living for the now.
Three sceptical Seattle magazine employees go looking for a bizarre story after seeing a classified ad seeking a partner to travel through time with.
Jeff (Johnson), Darius (Plaza) and Arnau (Soni) find Kenneth (Duplass) working at a supermarket stacking shelves, and Darius, a grad student with a chip on her shoulder, is sent in undercover to make contact.
Kenneth and Darius begin training in secret for their mysterious mission with what seems like amateurish child's play.
The more they get to know each other though, and as they begin to trust each other, this preposterous plan to travel back in time starts to appear just a little bit plausible.
This is when the real fun begins as the perspective turns from that of the three disaffected journalists to that of an eclectic group of people who are no longer sure what is possible.
Shot on a digital camera, this is director Colin Trevorrow's debut feature, and while he's been conventional in the visual style used, he sure makes up for it with an ambitious finale.
You'll either love it or hate it, but it's one of the best non-Hollywood happy endings I've seen in a while.
Stars: 4/5
Cast: Aubrey Plaza, Jake Johnson, Karan Soni, Mark Duplass
Director: Colin Trevorrow
Running time: 86 mins
Rating: M (offensive language and sexual references)
Verdict: Charming, sassy and bitingly funny comedy.
-TimeOut