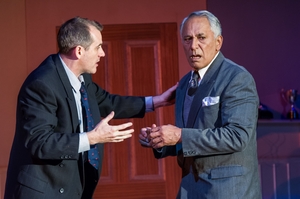 Peach Theatre's reverential approach to Arthur Miller's 1949 classic offers a traditional reading that allows this 20th century masterpiece to speak for itself - with all its ambiguities and contradictions intact.
In opting for a post-war setting, the production demonstrates there is no need for any up-to-the-minute modernisation to highlight the play's continuing relevance.
The play speaks to contemporary audiences with an unsettling power due to Arthur Miller's invigorating refusal to settle for easy answers and his profound respect for the struggles of ordinary people.
Director Jesse Peach's accomplished stagecraft finds an easy rhythm that accommodates the play's hallucinatory mix of reality and illusion while creating plenty of space for superb performances from an outstanding cast.
There is little that is likeable in the character of Willy Loman but George Henare endows this iconic figure with an irrepressible vitality which forces us to recognise that his obsessive yearning for greatness is truly admirable.
If there is any doubt on this score it is dispelled by Catherine Wilkin's portrayal of Loman's long suffering wife who clearly sees that her husband is delusional but passionately demands others must recognise the unsung heroism in his life-long struggle against the odds.
Ian Hughes offers a finely nuanced interpretation of the favoured son, Biff, who refuses to buy into his father's illusions but is unable to commit to any meaningful alternative.
Biff's despondent engagement with reality is neatly counterpoised by Richard Knowles' portrayal of the younger brother, Happy, who cynically maintains that life is all about keeping up appearances.
The cast is rounded out with a highly talented ensemble breathing life into Miller's lovingly created menagerie of minor characters who give the play the texture and complexity of real life.
What: Death of a Salesman
Where: Maidment Theatre
When: Until 27 October