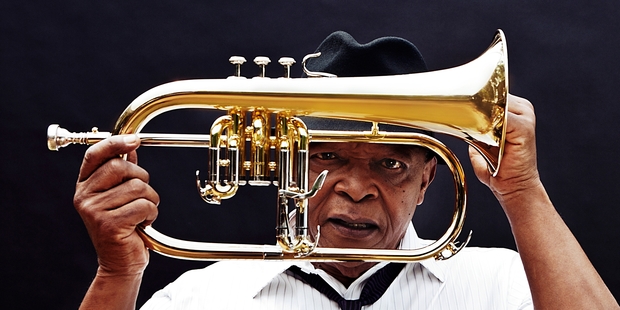 A South African jazz master, a Jamaican reggae pioneer and a Mandarin-speaking banjo player from Nashville are three of the stars of next year's Womad festival in New Plymouth.
Trumpeter Hugh Masekela will headline the three-day festival from March 15-17, along with reggae great Jimmy Cliff.
Up-and-coming singer-songwriter Abigail Washburn will also be bringing her banjo and unique Americana-meets-Chinese folk songs to New Zealand for the first time.
The three artists are an early taster of the festival line-up, with the full list officially announced at Parliament on October 31.
Earlybird tickets for Womad subscribers (sign up at womad.co.nz) and My Ticketek members go on sale today from ticketek.co.nz, with general sales from 9am Monday.
Masekela is renowned for his chart-topping pop hits in the United States as well as his socially and politically conscious music. He is perhaps best known in New Zealand through his association with Paul Simon, who he toured with following the release of Graceland in 1986.
Masekela was also part of the Graceland anniversary celebration in Hyde Park this year, which also included performances by Jimmy Cliff.
The latter is best known for the 1972 album The Harder They Come, a soundtrack to the film of the same name, which starred Cliff as Ivanhoe "Ivan" Martin who wants to be a recording star but is forced into a life of crime on the rough streets of Kingston.
The album's most famous songs, such as the title track You Can Get It If You Really Want and Many Rivers to Cross, are often credited with popularising reggae around the world.
Washburn, a blond, blue-eyed banjo player currently based in Nashville, is virtually unknown in New Zealand but is shaping up as a must-see of the festival.
The 34-year-old learned to speak Mandarin during stints living in China and she incorporates this Chinese influence into her old-time folk and pop-inspired music.
For more information see womad.co.nz.
Summer sounds at beach pub
Joining in the increasing number of summer festival announcements is the new Waihi Beach Hotel Summer Festival. It's not so much of a festival in the traditional sense but instead will involve five big nights of entertainment, spread between December 22 and January 5, providing entertainment for the holidaymakers, and taking advantage of the many acts on tour.
Kicking things off on Saturday, December 22 will be local four-piece Blacklistt, who formed from the ashes of Blindspott, with fellow alt-rockers Villainy and Devilskin performing in support.
Then on Wednesday, December 26, popular Belgian drum 'n' bass DJ Netsky will be warming up for his Rhythm and Vines appearance and no doubt creating a boiler room all of his own.
New Year's Eve will be a classic Kiwi rock party with veteran acts Hello Sailor, the Jordan Luck Band, and Fagan and the People joining for a night of sing-alongs.
On Saturday, January 5 Avalanche City make a welcome return after spending much of the year touring America and Australia. They'll be joined by Opshop and The Feelers, who will undoubtedly play their crowd-pleasers as well as material from their latest albums.
There's one more international act yet to be announced to round out the festival, which will be held in the 2000-capacity marquee, right next to the iconic pub.
New Yorkers jump ditch
Having released their sixth studio album, Swing Lo Magellan, in July, New York six-piece Dirty Projectors are bringing their eclectic, weaving, harmony-filled songs back to New Zealand in January for performances in Auckland and Wellington, off the back of an Australian festival tour.
They will be filling up the Kings Arms stage on Wednesday, January 23, before heading to San Francisco Bath House the following night.
With the three females of the group providing beautifully entwined supporting vocals to band leader David Longstreth, the drums provide the groove while guitars scatter, keys flitter, and staccato percussion cuts through their sweet melodies to form an intricate web.
Needless to say, their live performances are often filled with a sense of vulnerability and tension, which makes it all the more impressive to watch them pull off their ambitious arrangements. Tickets are available through undertheradar.co.nz or Real Groovy.
The Feelers head overseas
Kiwi rockers The Feelers are heading off for a little OE, including dates in Singapore and the UK.
They'll be playing at the Hard Rock Cafe in Singapore on November 14, Oxford's O2 Academy on November 19, Birmingham's O2 Academy on November 20, Dingwalls in London's Camden Lock on November 22 and Cardiff University's Great Hall on November 24.
That last show coincides with an All Blacks game at Millennium Stadium, so expect an ex-pat party hosted by The Feelers if the ABs seal a win.
Six60 announce summer tour
Roots-rock act Six60 are supplementing their appearance at the Rhythm & Vines New Year's festival with a tour that takes in several popular beach spots.
They're also taking several special guests along for the ride, including Iva Lamkum at Butlers Reef in Oakura on December 27 and at Station Village Complex in Lower Hutt on December 28; David Dallas at the Riwaka Hotel on December 30, Coroglen Tavern on January 2 and Brewers in the Park in Mount Maunganui; Shihad, I Am Giant, David Dallas and King Cannons on January 5 at Matakana Country Park; and with David Dallas again at the Opononi Hotel on January 6.
Tickets go on sale from October via www.six60.co.nz, Ticketmaster and the venues.
-TimeOut