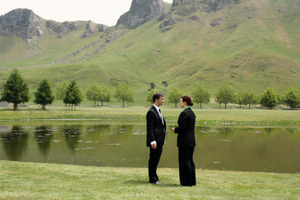 Prime Minister John Key's visit with Hollywood producers coupled with the premiere of a feature film in Hastings next month could help put Hawke's Bay on the radar of movie makers looking for new locations.
Film Hawke's Bay Trust supported Mr Key's work in the US to drum up support for the New Zealand movie industry but could not comment on whether concessions for big-time film producers would result in more work coming down under.
Trustee Tessa Tylee said Film New Zealand worked constantly overseas to bring international films to the country and having the Prime Minister support its latest visit to the US "was fantastic" and hopefully may have some spin-offs for the regions.
"Hawke's Bay is way behind other regions in the country with regard to film and commercials coming to the area.
"Our belief is that the screen industry is not aware of what potential location possibilities there are in this region and it is Film Hawke's Bay's objective to get Hawke's Bay noticed.
When they start to look for locations, Hawke's Bay is one place they will look."
Ms Tylee said the regional film office had only recently opened and due to international protocol, could not charge productions for its services, so relied on funding.
Hastings District Council approved $10,000 in its long-term plan for Hawke's Bay Film to develop its website, which could be used to attract movie makers to the region.
"With funding from the HDC we have been building our online image gallery, that is where the location scouts and producers go first to seek out potential locations.
"Up until recently we only had about 30 images and now we have in excess of 150 covering a whole raft of different location possibilities."
It had also set up a regular newsletter for the movie industry promoting Hawke's Bay, as well as another newsletter encouraging local businesses to support the industry in the region.
Film Hawke's Bay was among those who worked to bring director Alex Galvin to the region a few years ago to film some scenes for his sci-fi movie, Eternity.
The locations included Craggy Range near Havelock North, Hawke's Bay Opera House in Hastings and Tennyson St in Napier.
"They loved it here so much that they asked for the premiere to the movie to be held at the opera house.
"Having a premiere here really puts Hawke's Bay on the screen industry map. It will get us noticed and it will bring people from around the country and overseas here ... Film Hawke's Bay had organised to bring several movie location scouts and producers to the region to coincide with the premiere and to 'personally show them what we have on offer here'."
For more articles from this region, go to Hawkes Bay Today