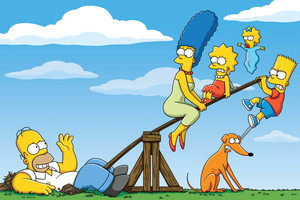 TV pick of the week: The Simpsons
The opening episode of The Simpsons' 24th season is a star-studded affair thanks to perpetually young Bart's eventful love life.
He's on a mission to track down his former girlfriends to see where things went wrong and ponder if he's missed "the one" along the way.
Yes, it's shades of Nick Hornby's High Fidelity. And it comes with quite a cast.
Not only does New Girl's Zooey Deschanel reprise her role as Mary Spuckler, the hillbilly daughter of Cleetus whom Bart nearly married in season 19, so do four other former girlfriends, voiced by Natalie Portman, Anne Hathaway, Sarah Michelle Gellar, and Sarah Silverman.
They too are reprising some of Bart's old flames: Gina (Gellar, season 15), Darcy (Portman, season 18), Jenny (Hathaway, season 20), and Nikki (Silverman, season 21).
"It was a way to acknowledge that for a 10-year-old boy, Bart has gotten a lot of action," says writer-producer Tim Long. "We thought it might be fun to borrow, pay homage to, steal an idea from High Fidelity and have him go on a romantic pilgrimage and visit the girls that he dated and try to figure out how the hell he screwed things up with each of them.
"I don't want to give away too much, but he realises that maybe there's something wrong with him after all."
Guests to star in season 24 will include Benedict Cumberbatch, Tina Fey, and Justin Bieber. The following week's episode is the annual Halloween special, Treehouse of Horror XXIII.
The new Simpsons season, which is only a week or two behind the United States, starts Four's two-hour animation Sunday slot, which includes new instalments of Family Guy (the new season 11, 8pm), Futurama (season seven, 8.30pm) and South Park (9pm).
The first Family Guy has the Griffin clan coming unstuck when they climb Mt Everest, get trapped by a storm and are forced to take desperate measures. A spoiler alert-risking sample line: "Tell me again why we ate a human before a dog?"
When: Sunday, 7.30pm
Where: Four
What: Bart rekindles old flames
Sport pick: Bathurst 1000
Bathurst is as much of an Aussie sporting institution as last weekend's NRL and AFL finals. So just as our Tasman neighbours are getting over their hangovers from the footy they'll be revving up again for the 1000km touring car race at the famous Mt Panorama circuit in Bathurst, New South Wales.
The late and legendary Peter Brock won the race a record nine times and as of 2006 the winners receive the Peter Brock Trophy. Presented by TV3's resident revhead Shaun Summerfield, live coverage starts at 10am and goes until 7pm. Ones to watch this year include New Zealander Shane van Gisbergen, who won last year's Hamilton street race.
When: Sunday, 10am
Where: TV3
What: Gentlemen, start your engines
Kiwi comedy pick: 7 Days
The funny scoundrels of the 7 Days team celebrate their 100th episode this week and during that time they have got up to all sorts of mischief as they've poked fun at each other and those making the news each week.
Since starting in 2009, it has become the mainstay of TV3's Friday night comedy line-up because as well as being hilarious, naughty, and quite often downright dirty, the panelists also offer a provocative and no-holds-barred opinion on the media.
The anniversary episode will be a "luxury-length best-of extravaganza" with 7 Days regulars, host Jeremy Corbett and team leaders Paul Ego and Dai Henwood presenting a selection of their favourites from past shows.
When: Friday, 9.30pm
Where: TV3
What: Celebrating 100 episodes
British comedy pick: Brendhan and Jason's Brit Comedy Friday
This new two-hour segment on TV One "celebrates" ancient British comedy classics by having them presented by Kiwi comedians Brendhan Lovegrove and Jason Hoyte, self-proclaimed experts of Brit sitcoms.
Each week the pair will take viewers through three shows, Mr Bean, Fawlty Towers and Are You Being Served?, which curiously remains a mainstay of Sky's Comedy Central.
Between doing their best Basil Fawlty impressions, Lovegrove and Hoyte will offer insight into each episode, behind-the-scenes gossip about the shows, and blooper reels.
When: Friday, 8.30pm
Where: TV One
What: The best of British laughs
Reality pick: One Car Too Far
This new Discovery Channel series stars British special forces soldier Gary Humphrey, and American "gear-head" (aka car fanatic) Bill Wu, who get dropped into some of the world's most hostile and dangerous environments.
Once on the ground, and with only basic survival rations and three days to complete their mission, they have to find a 10-year-old 4WD car and get it back to civilisation.
In the first episode they are plonked on top of a snow-capped volcano in Chile and have to drive their little red car back to the land of the living. This show sure is driving where no car has gone before.
When: Wednesday, 9.30pm
Where: Discovery Channel
What: Like Man Vs Wild, but in a car
- TimeOut