Documentary aired year after British icon Jimmy Savile died labels him a sexual predator.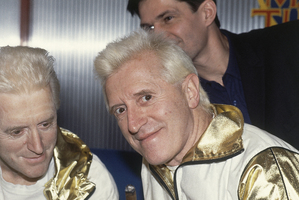 When Sir Jimmy Savile died last October, Cabinet ministers and the Prince of Wales led the tributes to one of broadcasting's most colourful characters.
The flamboyant entertainer, a unique presence on British screens since the 1960s, famed for his cigar and outrageous tracksuits, was remembered in a series of nostalgic BBC programmes. Yet this celebration of Savile as a tireless charity fundraiser, whose eccentricities only endeared him further, angered a group of women who believed they had encountered a very different, darker individual.
Now, a year after he died aged 84, his reputation lies in ruins as those women use the airwaves he once ruled to expose an apparent sexual predator. And former colleagues are lining up to claim that they always knew Savile's larger-than-life public image was a sham.
Yesterday, Surrey police said it received a complaint about Savile five years ago. They said "the matter was referred to the Crown Prosecution Service for a charging decision who advised there was insufficient evidence to take any further action".
The claims that Savile indecently assaulted young girls, supported by 10 women in an ITV1 documentary to be broadcast tomorrow, began surfacing as rumours within days of his death.
Reporters for BBC's Newsnight began to investigate claims that Savile had molested a teenage girl in the 1970s. The report was shelved, the BBC said at the time, because the story "could not be substantiated".
The BBC denied the report was abandoned because the corporation was due to run three tribute programmes on Savile.
Former Radio 1 colleague Paul Gambaccini said yesterday that whenever rumours circulated, Savile played tabloid newspapers "like a Stradivarius" to keep any allegations of impropriety quiet.
"You just didn't mess with Jim," Gambaccini said. "He had been the first great club DJ, he had been the originator of Top of the Pops presentation, and you just let him have his turf. On another occasion, and this cuts to the chase of the whole matter, he was called and he said, 'well, you could run that story, but if you do there goes the funds that come in to Stoke Mandeville - do you want to be responsible for the drying up of the charity donations'? And they backed down."
The ITV film, Exposure: The Other Side Of Jimmy Savile, presented by Mark Williams-Thomas, a former Surrey police child-protection officer, finally puts the case for the prosecution. Roger Foster, Savile's nephew, said his family was "disgusted and disappointed".
But it appears to be too late for Savile, whose inscrutable persona could not survive his death and who is now set to join Gary Glitter and Jonathan King among the ranks of shamed entertainers who were invited into the nation's living rooms only to betray the trust of their fans - and the British viewing public.
- Independent