Touring schedule takes toll on the vintage disco ensemble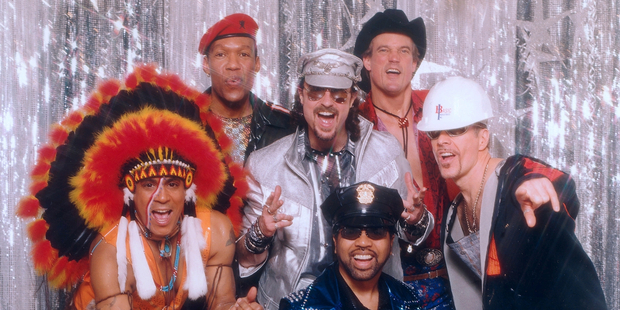 With all the Ys, Ms, Cs and As it's no surprise the Village People are suffering a collective creak.
The six members of the high-energy disco band have endured a debilitating share of injuries over their remarkable 35-year history.
David "Scar" Hodo, otherwise known as the construction worker, is recently back from a four-month lay off with a torn hamstring.
Another founding member, Felipe Rose, the band's Native American, once broke his foot performing three shows a day at Disney World.
"I don't think people appreciate how hard we work on stage because they see us having so much fun, but that's our mission," Hodo says ahead of the band's 33rd visit to Australia.
"There's still this incredible demand for our shows so we're often in the lucky position where we're forced to turn work away."
Describing their ages as "between 50 and death", the camp and colourful ensemble have no plans to slow down.
Village People have sold 100 million records and hold the Guinness World Record for leading 40,000 people in Texas through the YMCA.
"People have no idea about exhaustion and jet lag until they've toured in a band where your life is no longer your own," says Hodo. "It's like taking some kind of drug that removes you from your own body but it's really the only life we've ever known."
Village People started out in New York as a manufactured group designed to cash in on the thriving disco and gay communities.
Their heyday was between 1977 and 1979, when they became a global phenomenon thanks to the hits YMCA, Macho Man and In The Navy.
Also comprising a biker, a GI, a cop and cowboy, they starred in the film Can't Stop The Music and later won immortality with a star on the Hollywood Walk Of Fame.
But problems arrived in maintaining that level of fame, such as fending off copycat imposters.
Battles also broke out between the band's members with several departing in acrimonious circumstances, most famously the original lead singer Victor Willis.
Most painful for the remaining crew was the shock death of original member Glen Hughes, who died in 2001 at the age of 50 from lung cancer.
"Losing Glen was very hard but he's still with us in spirit and we found someone in the end to replace him," says Hodo.
- AAP
Tour preview
What: Village People
Where and when: Wellington Town Hall, Nov 29; TSB Arena, New Plymouth, Nov 30; Auckland Town Hall, Dec 1; Ascension Wine Estate, Matakana Dec 2