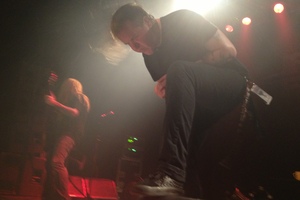 It was a very different Fear Factory that came to Auckland last night to shake the foundations at the Powerstation. In one respect, that's because the band's lineup is 50% "new and improved" over the version that last visited these shores in 2010, but more importantly it's because this Fear Factory looked like it knew how to have fun.
The grim times are over - this is a band that has found peace, and so they're free to focus on the job at hand: playing the kind of music that only finds peace every so often.
But when it does, it's an incredible thing.
Take Recharger, for example. It sounds like a chainsaw being pulverised by a jackhammer while singer Burton C. Bell shouts up a storm about freeing one's self from the chains of bureaucracy. Then, just when you wonder how much worse the world according to Bell is going to get, he suddenly switches gears and is singing cleanly and passionately about the kind of eyes-open, carpe diem stuff that we all wish we had the courage to embrace if not for, well, the crushing pain of modern life.
It's uplifting, anthemic, and it ends on a high that is beautiful and powerful.
The song, typical of Fear Factory's classic formula, is as good a candidate as any to explain why the Fear Factory train is worth jumping on when they're in town. That said, criticism of the band's live shows tends to centre around the same thing. Bell's dual-vocal style sounds amazing on record, but bringing those throat gymnastics to the stage has yielded mixed results during the band's long career.
At the Powerstation, Bell was in the form of his life. Even Linchpin, which has sounded decidedly ordinary at times in the past, was full of good moments.
The whole show was full of good moments, as it happened. This year marks 20 years since the release of Fear Factory's debut album, Soul of a New Machine, and fans were treated to staple tunes Martyr and Scapegoat.
The band also dusted off Self Immolation which, according to Bell, hadn't been played much since 1992. It holds up extremely well, and deserves to be heard more often.
The best surprise of the night was simply seeing how much fun the band was having. Bell turned every song into a piece of performance art; marching on the spot during the anti-corruption, anti-bad cop tale of Scapegoat, and pantomiming a one-man crusade against authority during Edgecrusher.
By the final stages of the show, Bell's vocals began to bear signs of fatigue. Not to worry - as any Briton might tell you, there's a cure for that. After belting out the crowd favourite, Replica, Bell went backstage and returned with a most un-metal cup of tea. It did the trick. The last two songs on the setlist, Pisschrist and Zero Signal, sound to be quite taxing on the human throat, with their sustained clean vocal endings coming after extremely coarse verses.
New drummer Mike Heller and new bassist Matt DeVries look at home in Fear Factory despite only having been on board for a few months. A player of incredible precision and technique, Heller has mastered the complicated patterns set by his predecessors, Raymond Herrera and Gene Hoglan.
In DeVries, the band has found a daring bassist who not only handles his musical duties with aplomb, but doesn't shy away from attention either. Rather, he demands it. He strangled the low end notes from the neck of his instrument while Cazares fired off his famous machine gun riffs and, during a pulse-quickening rendition of Fear Campaign, a perfect solo.
The show openers, 8 Foot Sativa and Just One Fix, did their part to showcase Kiwi metal. The well-supported "8 Foot" have a world-class frontman in Justin "Jackhammer" Niessen, - Jack to his mates - and it would be something to see borrowed Dawn of Azazel bassist Rigel Walshe (famous in New Zealand for daring to perform in a metal band while also being in the police - not the band) find a permanent home there. His presence is phenomenal.