Lydia Jenkin talks to one half of European pop-folk duo Bouy about how they bring joy and light to their music.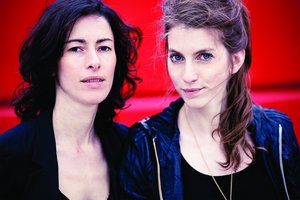 Oddly named pop-folk duo Boy began with a serendipitous meeting. Swiss singer Valeska Steiner met German bass player Sonja Glass at a summer music workshop in Hamburg.
The pair immediately clicked, and spent the week collaborating, before Steiner returned to Zurich and Glass continued with her other musical projects.
They kept in touch though, and two years later, when Steiner moved to Hamburg, they were ready to join forces. Boy was born.
"We had similar visions and tastes, and we cared about the same things in music, and I think it's very rare to find someone that you can relate to so well, but that was the case with us," says Steiner down the line from Europe, where the duo are currently touring.
The seemingly effortless genesis is reflected in their breezy, whimsical, musical sound.
But though it may sound easy, it's a carefully crafted palette. Steiner's lovely folky voice is at the forefront, with a collection of beautifully picked-out piano, guitars, banjos, and percussion weaving throughout, full of space between them, often capturing a youthful delight in the mysteries of the world but also occasionally delving into nostalgia or wry humour.
"What was important to us was not to have too many very sad songs, or too many songs about suffering, because we really didn't feel that way at that time," Steiner explains.
"I'd just moved to a new city and I was very curious, although I was a bit homesick sometimes, but I think it's about the whole spectrum between those two feelings - about looking forward and being excited about what's to come but also looking back and missing some things.
"I was not just interested in writing songs about love or being heartbroken, I was interested in finding other stories."
Stories that Steiner would collect from simple daily interactions - perhaps out walking, or sometimes from her customers, as she worked as a waitress in a Hamburg cafe. It worked well for the pair, who discovered they worked best separately, rather than sitting together in one room.
"Sonja would make the instrumental ideas and parts, then record them at home in her living room. And then she would email the ideas to me, and I would go outside and listen to the songs on my iPod. For me it's good to be out, just observing things, to get inspired.
"And then I would record the lyrics and melody, and then it goes back and forward between us, until we feel like it's becoming a song that we want to work on, then we come together."
Steiner cites artists like Suzanne Vega and Shawn Colvin as admired lyricists ("I like the way they really focus on the stories ... It's not about showing off how well you can sing, it's more about what you want to say") and the pair enjoy a huge range of music from hip-hop to folk to alt-rock, but possibly one of the greatest influences was their producer, Philipp Steinke.
A keyboardist and producer, he spent about two and a half years working through the songs with the pair in his studio and played a key role in turning their first single, Little Numbers, into a YouTube sensation with nearly six million views.
"It was funny, because the initial idea was pretty melancholic somehow, and then we added the lyrics. But it wasn't until we brought it to Philipp that he had the idea of doing it with the piano instead of guitars and that's when it started to become joyful and light, so I think all three of us added very important parts to it."
Having a carefree, holiday-like video has surely added to the song's appeal. Filmed in Barcelona, it shows the girls exploring the city, toy piano in hand, interacting with the locals.
"[Our director] thought we should shoot in Barcelona because the light there is very special and there's a lot you can do on the street because people like to interact spontaneously. So we went there with no big plan and a very small crew, and just spent two days walking around trying to create little situations where people would get involved."
They get a variety of people, old and young, singing and dancing along - including one particular group of tourists who were especially enthusiastic. "They're a funny story actually. We were on the terrace shooting, and of course we had to put the music on so we could lip-synch, and there was suddenly these German tourists on the balcony and they were dancing along, just spontaneously. But yeah, there was no script and no one had parts to play."
It was simply a reflection of the response Boy's music draws - head-nodding, toe-tapping, laughter and smiles.
Who: Swiss-German duo Boy
What: Debut album Mutual Friends, out September 21
-TimeOut