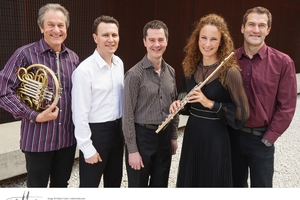 We live in an age that puts great store on expertise. Panels of experts decide art prizes and confirm medical diagnoses. And so it is with music. The many ensembles that Chamber Music New Zealand tours are prime examples of what happens when you bring together a group of top-class musicians to focus on a specific area of repertoire.
Zephyr, who play two enterprising programmes in Auckland and Hamilton next weekend, are a woodwind quintet comprised of five principal players from the New Zealand Symphony Orchestra.
Ed Allen, Zephyr's irrepressibly cheerful horn player, may have retired from the NZSO two years ago, but this has given him a new perspective on his colleagues.
"I've been freelancing this year in orchestras on both sides of the Tasman," he says. "And I haven't found another woodwind section better than the NZSO's."
Allen jests that, alongside flautist Bridget Douglas, oboist Robert Orr, clarinetist Philip Green and bassoonist Robert Weeks, he sometimes feels he is "the viola of the group - in the middle filling out the sound".
In fact, the horn is a bit of an odd man out, he explains. "It's broader in sound, and if you analyse what the horn plays through a computer, you'll see the huge range of timbres that make up what comes out of the instrument."
Zephyr's two concerts - Auckland next Saturday and Hamilton the following evening - are "incredible programmes," Allen beams. "Together, they offer a comprehensive view of the wind quintet literature of the 20th century."
Predictably, French music has a special place, with works by Francaix and Ibert in Auckland, and Milhaud in Hamilton.
"There's something about French musical culture," Allen muses. "French composers have always emphasised the woodwind sound. Debussy's La Mer may have wonderful string writing but it's the woodwinds that carry the show."
A Jean Francaix Quintet, which launches the Auckland evening, is "amazing stuff. There are so many notes that you'd think my colleagues might each need 12 fingers."
Hailing from the United States before joining the NZSO back in 1984, Allen is enjoying the contributions by American composers John Harbison and Elliott Carter.
"Harbison's Wind Quintet in the Auckland show is a huge challenge. It was written in the late 70s when American society was going through some pretty strange changes. This work's in touch with all of that."
Carter's 1948 Wing Quintet (Hamilton) is "a milestone in quintet writing and something that deserves to be heard."
Allen first played it 35 years ago in the States, but is remarkably philosophical when I ask him why New Zealanders have heard so little of this major composer in our concert halls.
"Why is any composer not accepted in foreign parts?" he asks. "New Zealand's like any other country on this planet - you play the music that is written by your own."
And, sure enough, Zephyr has not forgotten the homegrown.
While Hamilton audiences will hear Gareth Farr's newly commissioned Mad Little Machine, Auckland has Ken Wilson's delightful 1963 Quintet, a score that Allen asserts stands up with the very best. He also has the stage to himself for Ross Harris' Fanfares for Solo Horn.
He likes the way this piece is based on intricate mutations of small cell-like ideas. "Although Ross is pretty adventurous, he knows what can be done. Sometimes composers write stuff to push the limits, not realising what the limits are.
"It's kind of audience-friendly," is Allen's assessment. "It's very fragmented but the fragments make sense; and it's not just a lot of weird noises, an approach that I've started to get a little tired of."
What: Zephyr
Where and when: Auckland Town Hall, September 29 at 8pm; Gallagher Academy of Performing Arts, Hamilton, September 30 at 5pm