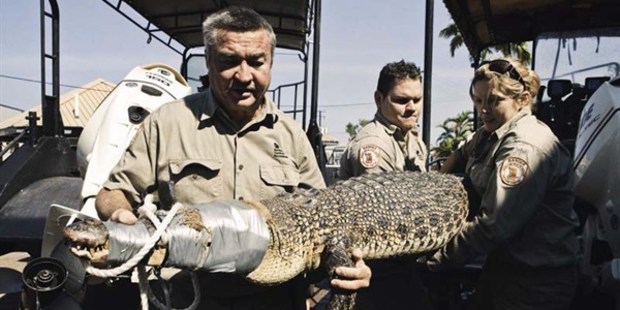 With just eight fingers, some hardware-strength duct tape and possibly a colleague, Northern Territory ranger Tommy Nichols heads out each week on a small tinny catching wayward crocodiles.
A member of the Northern Territory Crocodile Management Unit, Nichols has been trapping, catching and relocating crocodiles around Darwin for some 30 years.
It's during that time he lost part of his left hand - he's now minus the little and ring fingers and part of the palm.
The close call with the saltwater variety prompted changes to the way Nichols and his team of four co-workers handle crocs.
The team's unusual occupation and their continual dice with death now features in the National Geographic series The Croc Catchers NT.
"There are some dangers in catching a crocodile and we don't want to lose any limbs," Nichols tells AAP.
"We've changed a few practices since ... (he lost part of his hand) in how we catch them and other techniques and there's a big emphasis on safety, for sure.
"We know what to do and are well trained so hopefully we don't have any more incidents like that.''
Despite the vast growth in crocodile numbers, from a few thousand when he started in the '80s to an estimated 100,000 today, Nichols and his team are not into the habit of killing or destroying the species.
"Every crocodile we catch goes to a croc farm," Nichols says.
"They put in a tender for the crocs and they pay the government a fee depending on size and sex. They can do with what they want to do with them.
"We don't relocate them to other positions as the majority of them do come back."
Nichols says the Crocodile Management Unit have 25 permanent traps and another 26 traps are used on a temporary basis throughout the year.
"Boat ramps, swimming holes and camping spots are a few of the places the traps are often set," Nichols says.
"The highest amount we caught in Darwin Harbour one year was 263 and we catch 200 plus every other year.
"When we started doing it as a full time job 18 years ago we were only getting 60 to 70 a year, whereas now it's 200 plus.''
Nichols said the series, the creation of National Geographic, will serve a couple of purposes, not the least as an advertisement for tourism in the Northern Territory.
It will also act as an educational tool and feed the curiosity of those amazed by the strength and longevity of crocodiles who have been around since dinosaurs ruled the earth.
It includes some tips from those in the know.
"We use kilometres of duct tape and not all duct tapes are the same," Nichols says.
"You have to be careful, we got the wrong duct tape once and it was like toilet paper."
* The Croc Catchers NT premieres on Sky TV's National Geographic channel at 8pm on September 24.
- AAP